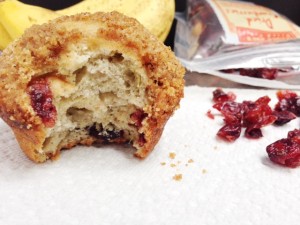 How many more times can you hear about how much someone loves fall time? You are about to hear about it one more time! The season brings very sentimental memories for me. It started in highschool. Football, pumpkin patches, hot chocolate, haunted  corn mazes … then as I grew it became more about salted caramel lattes and makeup. (Side note: Pumpkin spice lattes have been a serious trend the past few years. When did it start trending that PSL was uncool? I am not saying it has to be starbucks or even a latte, but I am team pumpkin spice all the way!)
"P" and I met last fall- so if I was obsessed with the season before it is times ten now. Cool crisp air, cozy blankets, changing leaves… these all remind me of when we first began dating. Somehow anything cinnamon or brown sugar reminds me of warmth which in turn brings me to these "fall" inspired banana cranberry muffins.
You can make them even healthier by skipping the streusel topping. I will not be doing that, but you can. 😉
The first time I experimented with this recipe I did not even get to try one. That's right… 12 muffins… zero for me. "P" sampled a few then gathered them up and shared with his office. They are incredibly easy to make and I assumed their disappearance meant they were good enough to make again.
What you need:
4 very ripe bananas
1 tbsp of honey
1/2 cup of sugar
1 cup of AP flour
1 tsp baking powder
1 tsp baking soda
1/2 tsp salt
1 egg
3 tbsp melted butter
1/2 cup dried cranberries
Streusel topping:
3 tbsp cold butter
1/2 flour
1/2 brown sugar
1 tbsp cinnamon
Directions:
Preheat oven to 350. Spray a 12 muffin tin with non stick spray or fill with liners. Mix sugar, honey, egg, and cooled butter with the banana. Add in the flour, baking power, baking soda, salt, and cranberries.
Very important not to over mix. Fill the muffin tins 3/4 of the way.
For the streusel mix all the ingredients until it forms little crumbles. Sprinkle on top of each muffin. Bake for 20 minutes or until golden brown.
These are just as good the next day. I like to individually wrap them to keep them extra moist.
Enjoy!