Poundcake is one of those things that can be tough and dry or sweet and creamy. I have always loved recipes that use a lot of heavy whipping cream, but this time I wants to try something a little different. This strawberry poundcake is reminiscent of a danish. Light crust with a moist cake and lots of berry flavor.
I served this cake on Mother's Day for a light brunch. I forgot to take a picture, but we whipped a big batch of vanilla whipped cream to top our bites. You could also cut the cake into cubes and make a trifle with strawberries and whipped cream.
This cake is not too sweet so you can have it with a cup of coffee or as dessert after dinner!
I used my all time favorite Rodelle vanilla paste in combination with their vanilla extract. This seriously gives the most delicious vanilla flavor.
Mixing the vanilla with strawberry preserves and fresh strawberries create the perfect balance when you add the cream cheese. I bet you could even slice this into bread sized pieces for some insane French toast!
Strawberry Poundcake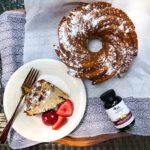 1.5 cups salted butter
8 ounces full fat cream cheese
1.5 cups brown sugar
0.5 cups sugar
0.5 cups sour cream
4 large eggs
2 egg yolks
0.5 cup seedless strawberry preserves
1 cup chopped fresh strawberries
1 tbsp vanilla extract
1 tbsp Rodelle Vanilla Paste
3 cups cake flour
1 tbsp baking powder
Preheat to 325 degrees

Grease or spray down a cake pan/ bundt pan

Whip butter and cream cheese

Add in sugar

Whip until light and fluffy

Add in sour cream, vanilla, and eggs

Add strawberries and preserves

Slowly pour in flour and baking powder

Mix until just incorportated, careful not to over mix

Bake for 45 minutes or until golden brown
Enjoy!