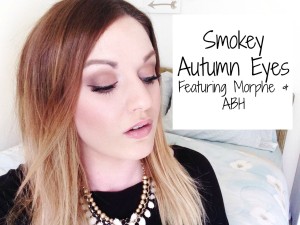 I. CANNOT. WAIT. for fall. It has been so stinkin hot as of late. I can't wait for the fall breeze, leaves changing, pumpkin spice EVERYTHING, and the makeup. Oh my gosh the makeup. I love warm smokey colors so much and this is the perfect time to wear them. This look can easily be worn during the day or darkened up to wear at night.
Click here to watch the full tutorial
Rimmel 25 hour foundation with comfort serum
Maybelline Dream Lumi Concealer
Rimmel Stay Matte Powder
Maryloumanizer The BALM
Covergirl Mascara Bloom
Jordana Fabubrow
Rimmel Spice Lip Liner
NXY Buttergloss Fortune Cookie
Milani Bronzer Glow
Rimmel Glam Eyes Liner
Eyelure lashes- 117
Eyeshadows –
Morphe – Creme Brule, Nuts for you, Deep Cocoa, Caramelized
Anastasia – Catwalk pallet – pink, bronze and champagne colors
What are you waiting for this fall?????