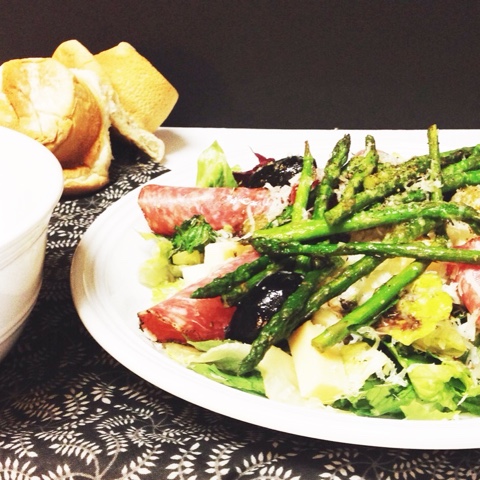 Today I wanted something easy, light, and filling. One of our go to meals is a fresh antipasti. Have you ever watched one of those cheesy romcoms where the couple is all googley eyed in the grocery store? Well that is me and P. Except we get googley eyed over olives and cheese. My favorite place to pick up ingredients is whole foods. Their olive bar is enough to make me giddy! Most grocery stores sell marinated olives, peppers, and cheeses in the deli section. Today I out used a few ingredients, but they all had a very strong flavor.
What you need:
Marinated olives and/or peppers
Mixture of cheeses (I used Romano and mozerella)
Romain lettuce chopped
Asparagus quickly sautéed in olive oil
Dried salami
Layer everything the way you like on a plate and season with salt and pepper.
For the dressing:
1/2 cup balsamic vinegar
1/4 cup olive oil
2 tbsp honey
2 tbsp Dijon mustard
Salt, pepper, Italian seasoning and crushed red pepper to taste
Whisk everything together and drizzle over your salad. Serve with your favorite bread!