Fall is my favorite time of year, well second to Christmas! I love decorating for the seasons, but it can definitely get expensive. I always make a list of items I need for a season update, but then end up walking around trying to justify $20 worth of smell good pinecones. I decided this year would be different. I wanted a pottery barn look for cheap and I wanted to go with a color theme that could transition into winter.
  These candle holders are a very sturdy black iron. I picked them up at the pottery barn outlet for less then $20. The leaves and white pumpkins I found at Michaels. It is always better to check the sales before buying. When you go late September/ early October you can find pumpkins for 60% off.
   This vase I found at Kirklands. It is actually a hurricane. I removed the candle holder. The flowers and lemons are from Walmart.
  I knew I wanted to try and get a lot of white pieces. White candles, blankets, pillows, flowers, ect… This will make it really easy to move into winter. Once it starts getting colder I am going to pick up about 4 more white blankets. I want them to all have different textures. This will give the living room a cozy feel. I honestly usually have about 5 pillows on the couch. P and I end up squeezed into a corner of the couch while the pillows take over. For the sake of my relationship I scaled back to 2 per chair. Pillows are the most expensive pieces usually. I change my mind so often I knew I could not justify $30 a pillow to get the cozy white feel that I wanted. I waited until the Hobby Lobby decor sale. They already have great pillow cover prices, but on sale you rarely spend more then $5 per case. All 4 of these cases are from Hobby Lobby and are still available on the website! The gray and white blankets are from Home Goods. Blankets and pictures frames are the best deals at Home Goods.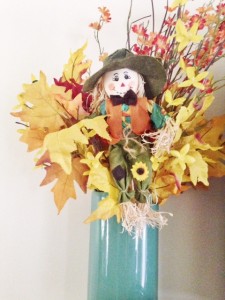 Finally, the scarecrow. I usually only have one of these. I found these leaves, flowers and the scarecrow pick at Michaels. The vase is old, but also from Michaels.
I hope I inspired you to decorate this season while saving a few bucks! I will update as I add more pieces!