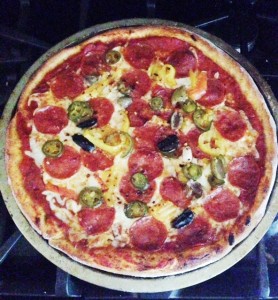 As much as I try I just cannot go a week without pizza. I even considered a cheese-less kale pizza to try and justify my cravings. This pizza has half the fat of a pizza from a local chain and is bursting with flavor. The mild garlic olives infused with the spice from the jalapenos and splash of sweet from the banana peppers. Such a winning combo. I added in a few boarshead pepperonis because they are my all time favorite.
What you need:
For the dough:
1 Cup of AP Flour
1/2 packet of active yeast
1/2 cup of warm water
1/2 tsp italian seasoning
1/2 tsp crushed red pepper
1/4 tsp salt
For the toppings:
banana peppers
jalapenos
garlic marinated olives
boardshead pepperoni
mozzarella
pizza sauce of your choice
How to make it:
Preheat your oven to 375.
I used a bread machine and just dumped all the ingredients in the machine on the dough setting. This dough does not need more then 20 minutes of rise time. We are making a fairly thin crust.  If you do not have a bread machine just mix your sugar, water, and yeast together. Let sit for 2 minutes then add the rest of the ingredients.
Roll your dough out as thin as you prefer. I did about 1/2 an inch thick.
Top your pizza with the sauce, cheese, peppers, olives and pepperoni. Bake for 30 minutes or until the crust has a deep golden color and cheese is bubbling.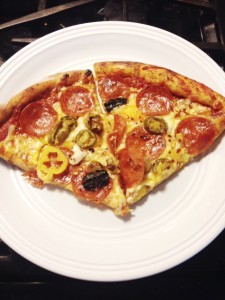 Just try to only have one piece 😉