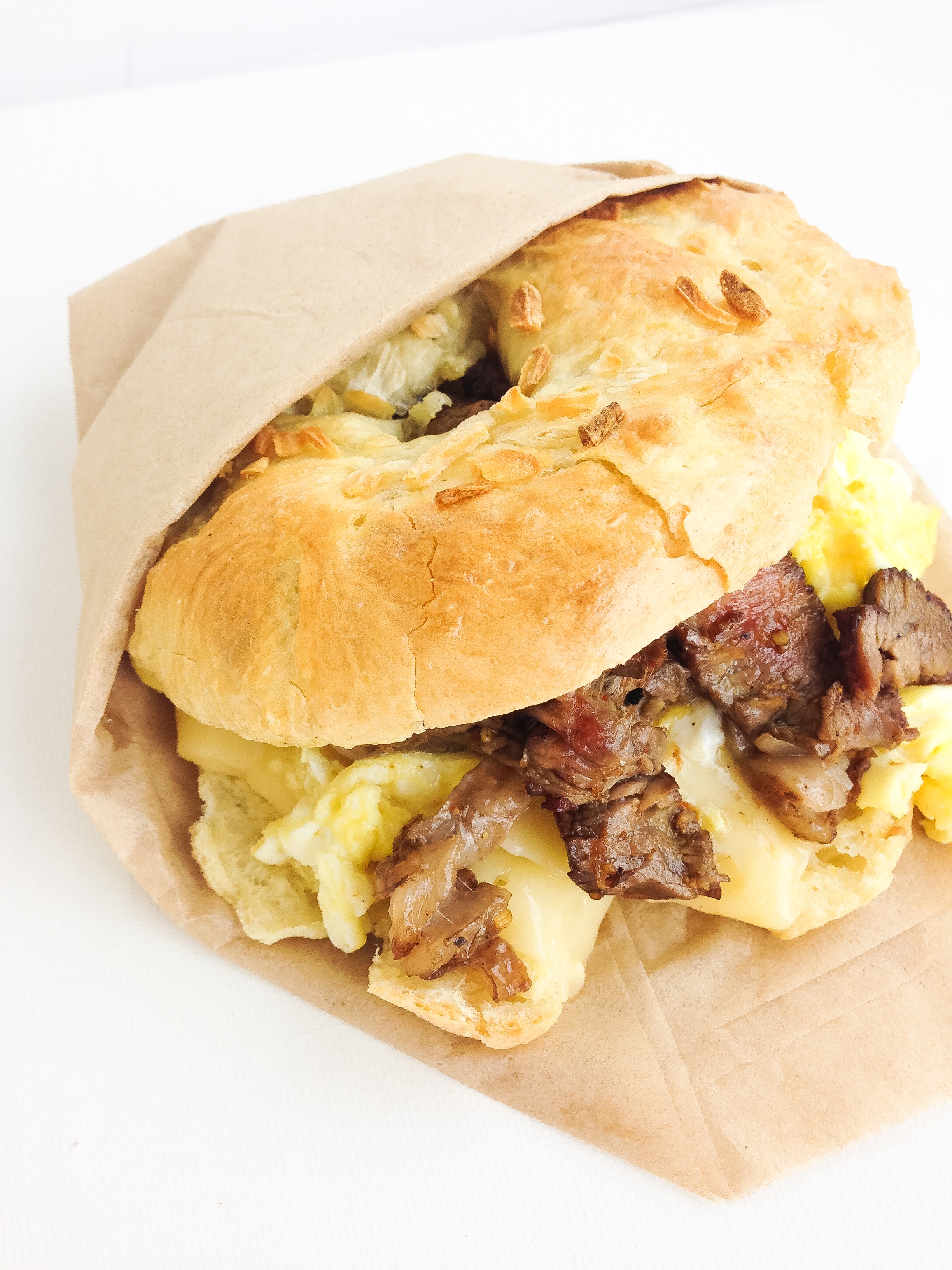 What do you make when you have leftover steak? I know what you are thinking right now. Who the heck has leftover steak??? I made fennel and garlic rubbed ribeye last night and we had one left over. (PS. Recipe for the ribeyes coming soon!) This morning I woke up and I knew exactly what that left over ribeye was destined to be. A glorious steak, egg, and cheese bagel. Not just any bagel though. I made these thin onion bagels. I wanted something warm and fragrant without too much bread. I didn't want anything to compete with this insane steak.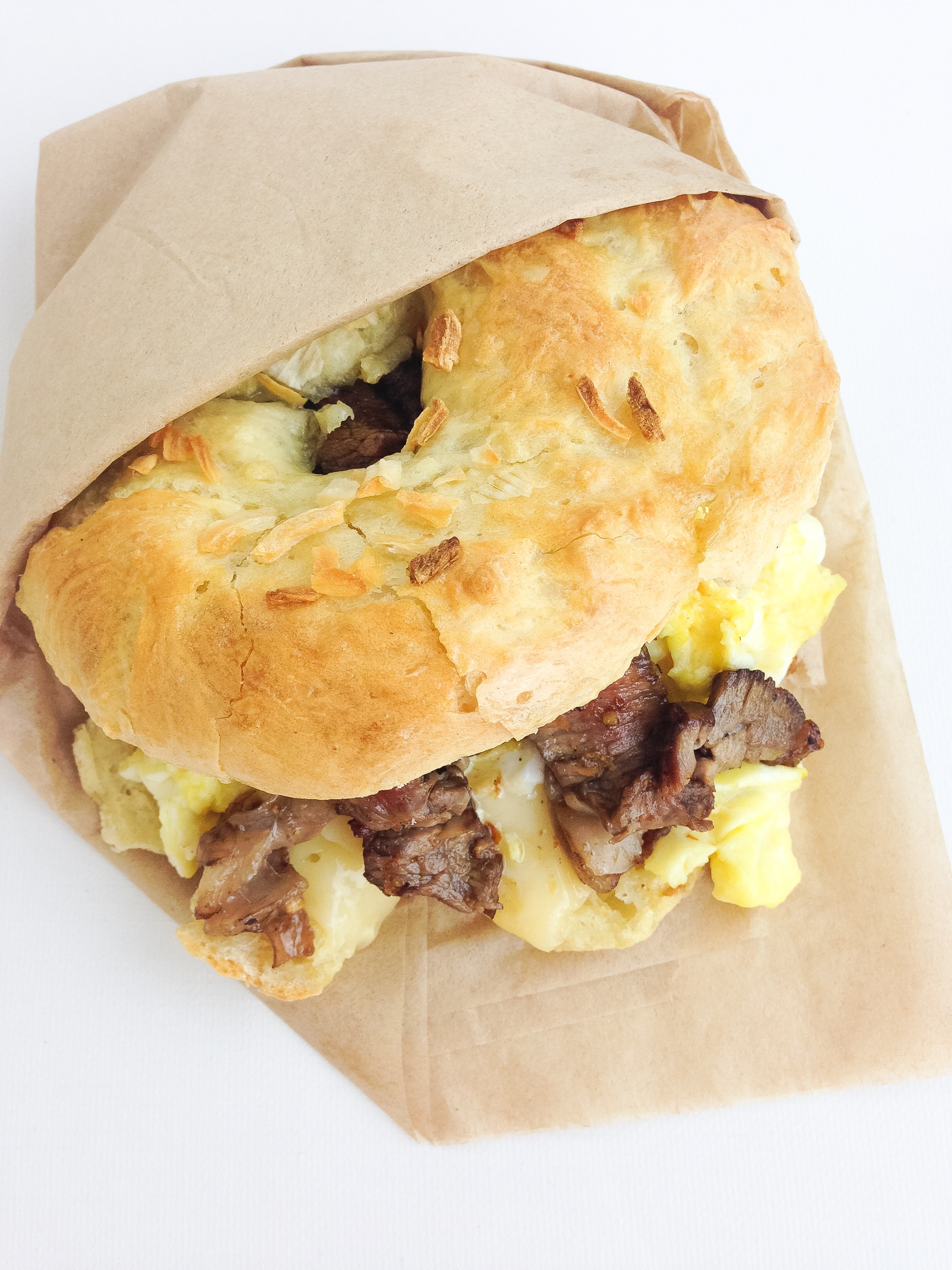 This crunchy crust is reminiscent of a baguette. Crisp outside with a soft yeasty inside. I topped them with onion flakes for a nice flavor to go with the crunch. Lathered with salted butter they don't need any kind of sauce (except hot sauce if you are a serious heat junky like me). Creamy scrambled eggs and melted American cheese top the bagel  off before the grand finale. Sliced pan fried ribeye. Go ahead and take a second to clean up that drool. Its okay my mouth is watering again too.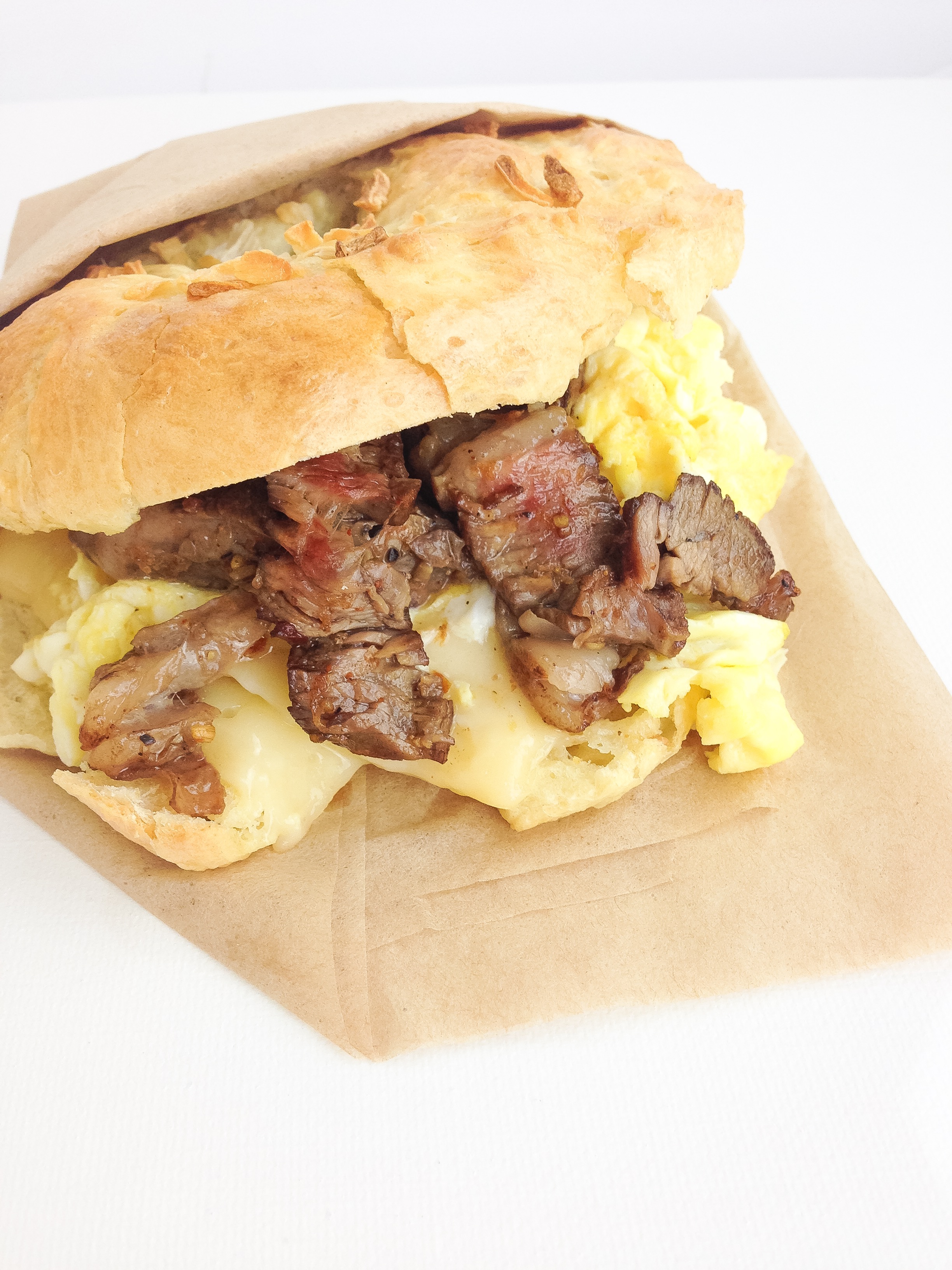 Steak, Eggs, and Cheese on Homemade Onion Bagels
Prep time:
Cook time:
Total time:
Serves:
2 sanwiches plus extra bagels
Steak, eggs and cheese on a homemade onion bagel
Ingredients
Ribeye thinly sliced (Mine was cooked medium rare)
3 eggs
1 tbsp of heavy cream
2 tbsp of butter
American cheese or any easy melting cheese
salt and pepper
For the Bagels:
2 1/2 cups of AP flour
2 egg yolks
1/2 cup of very warm water
1 packet of fast active yeast
1/2 tsp salt
3 tbsp sugar
6 cups of water for boiling
onion flakes
Instructions
In a mixer with paddle attachment add the water, yeast and sugar.
Let sit for about 5 minutes until yeast begins to bubble.
Add in the egg yolks and flour.
Begin to mix on medium low speed.
Sprinkle in the salt over the mixture.
Mix until a ball comes together about 10- 15 minutes.
Sprinkle with a little extra flour.
Let sit covered for 1 hour until double in size.
Form into 6 equal balls of dough.
Preheat oven to 425 degrees.
Boil water.
Flatten each ball in your hand to about an 1 thick.
Use fingers to poke a hole through.
Boil on each side for about 30 seconds.
Sprinkle with onion flakes.
Bake for 15 minutes until golden brown.
Mix together the 3 eggs and cream.
Scramble over low for nice creamy eggs.
Season with salt and pepper.
Pan fry the steak until warm.
Split the bagels in half.
Butter each side and layer with cheese, egg, and steak.
Enjoy!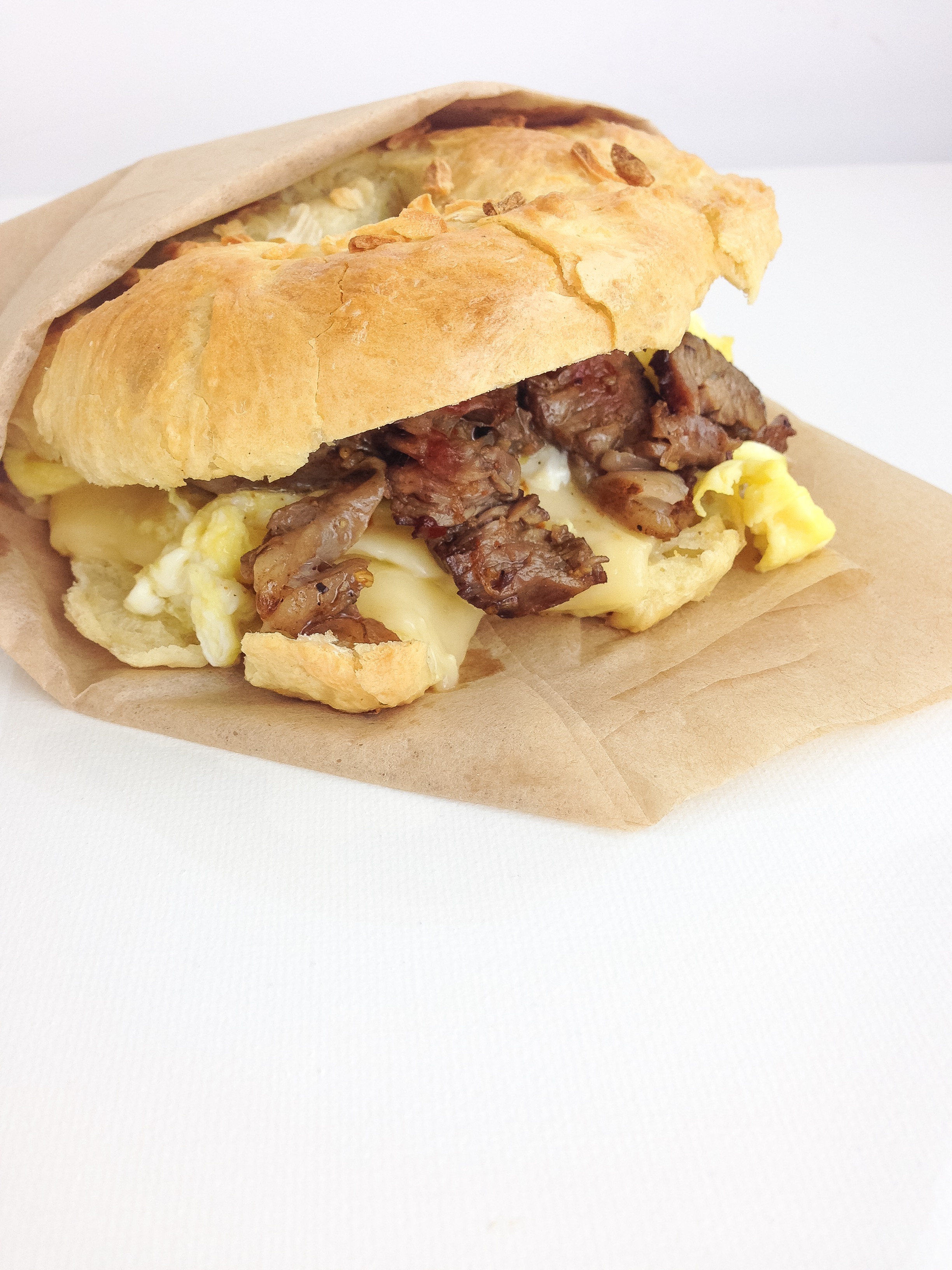 I don't know how much leftover steak there is in your house, but I bet you will think of a reason to cook a little extra now! These bagels are seriously everything in our house now. They literally bursting with flavor. The perfect combo of creamy, melty, and salty. Don't forget to tag #kelliericecakes if you recreate! Enjoy!