Hot Pot is one of those things that I think you either love or you hate. Most restaurants will have individual burners or share burners filled with savory broth. You cook a selection of meats and vegetables in your own simmering broth. Our favorite place also has a sauce bar. All you can eat chili oil? Sign me up! I did not go traditional today. I took all my favorite things from Hot Pot and made it a much easier clean up.
We had a new market open near us and I am almost embarrassed to tell you how many times we have been in the past 2 weeks. I say almost embarrassed because then I remember all the different kinds of dumplings and pork buns we have tried. Patrick is borderline obsessed with a little Ramen restaurant in the food court. Which is how this recipe came about this weekend. It has been threatening to snow flurry all weekend and every part of me wanted a rich beef soup. Not just any beef soup though. A hot pot style soup. Something with a rich broth and tons of goodies.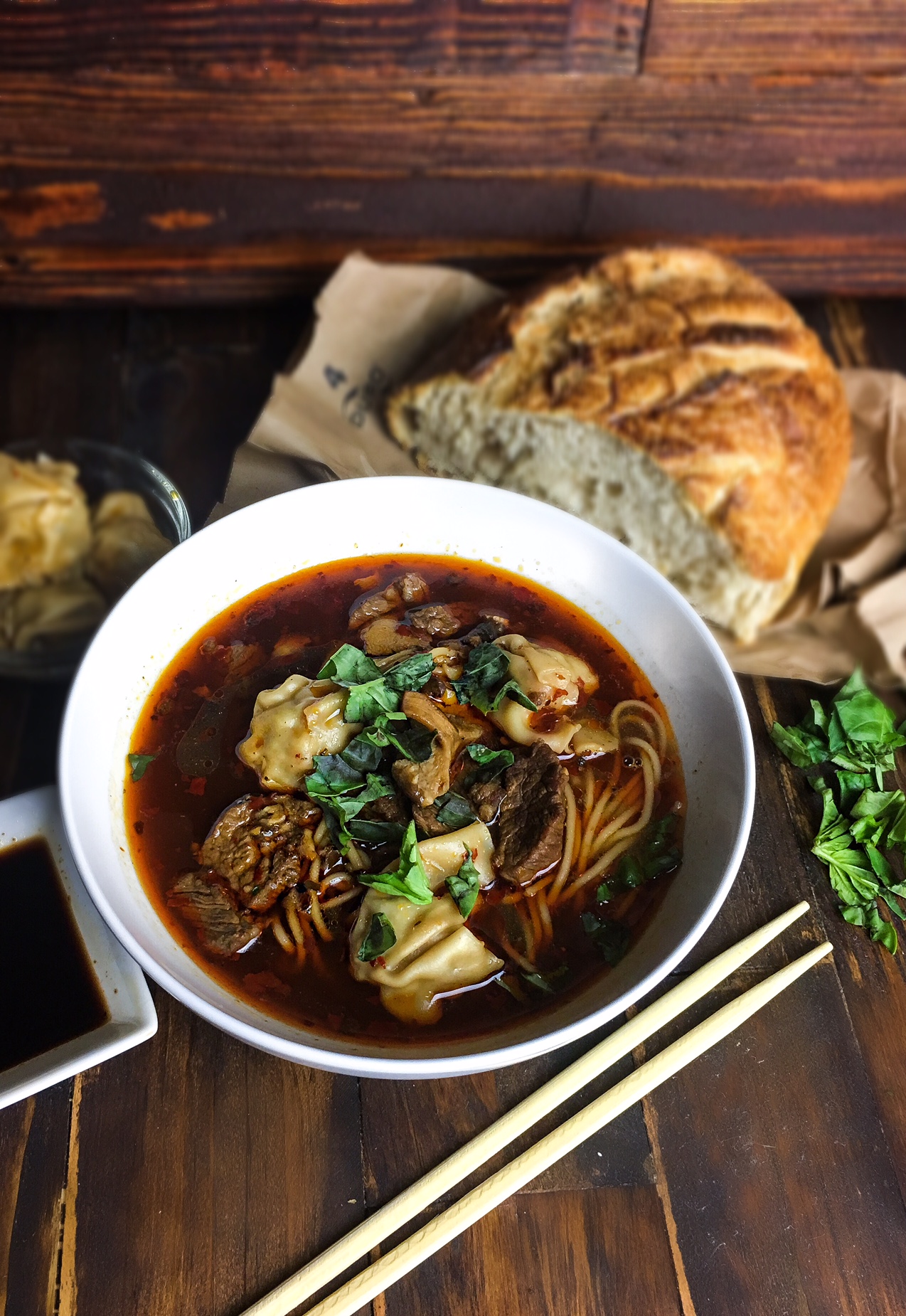 Most of these ingredients you can find right in your local grocery store. We purchased ours at a new local Asian market. If you have one close by definitely check it out! The herbs and vegetables are usually a fraction of the cost compared to local grocery stores. The selection is out of this world, and you can usually find really good deals on butchered meats.
I used pre-cubed rib eye. You can use any kind of beef you would like. Sliced brisket, stew meat, skirt steak sliced against the grain… anything works as long as you brown/sear the meat first.
Now lets talk about your heat tolerance. Mine is high- as in I tap out when fire comes out of my ears.  Patrick's kids usually can handle fairly spicy, but I think this recipe would terrify them. So I am going to give you some options to make this family friendly.
If you are going to an Asian market you can pick up a hot pot starter. These are also available online or you could definitely make it yourself.
When searching for your hot pot base definitely take into account your heat preference. If you are more of a mild to medium spicy I would completely stay away from anything with Szechuan Peppercorns. I don't think they are necessarily spicy, but sometimes you can get a bite that will unexpectedly numb your entire mouth. In theory I believe they are used to allow you to taste all the flavors in the hot pot, but if this is your first time making a recipe like this I would just skip them.
To build the base you will start by browning/ searing your meat. This is going to help tenderize the meat as well as build a lot of great flavor. Removed the meat then add in your broth and spices. Bring the broth to a rolling boil then drop down to barely a simmer before adding the meat back into the pot. Do not skip this step because it is going to give you super juicy bites of tender meat instead of chewy bites.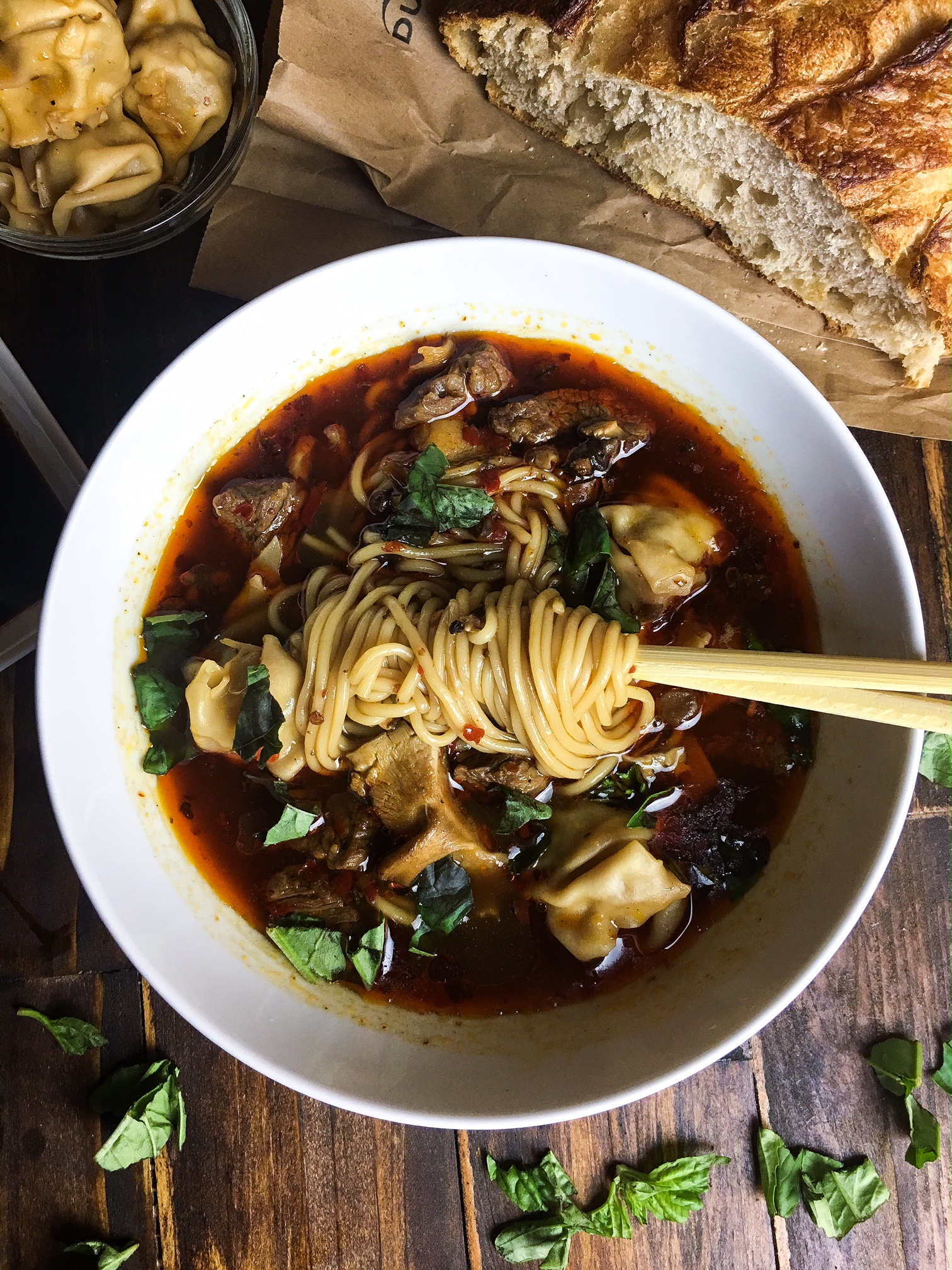 You can literally add anything to this soup. Some of my favorites are- mushrooms, cabbage, spinach, tomatoes, onion, egg, soup dumplings, noodles. Today we are using pork soup dumplings, shiitake mushrooms, garlic, Chinese noodles, and lots of fresh basil.
You can use any kind of dumplings you prefer, but I like the tiny bite size square dumplings. You can also have a dumpling sauce on the side for dipping. Yum!
Spicy Beef Hot Pot
Author:
Prep time:
Cook time:
Total time:
Spicy broth simmered with rib-eye, garlic, and mushrooms. Poured over basil, dumplings and Chinese noodles.
Ingredients
6 cups of beef stock
1/2 pound of cubed or sliced steak
1 tsp of canola oil
2 tbsp of chopped garlic
1 cup of fresh herbs
1 cup of mushrooms
4 oz or 2 servings of dried pasta such as Chinese noodles, ramen, or spaghetti
2 cups of dumplings
1/4 cup of hot pot base (Little Sheep is a good brand and I believe they sell it at Walmart)
Homemade Starter
If you want to make your own starter-
1/4 cup of canola oil
1 tsp cumin
1 tsp salt
1 tsp of soy bean paste
1 tsp of cayenne or white pepper (depending on your heat level)
1 tsp of garlic
1 tsp of crushed red chili (optional)
1 tsp of whole cloves (optional)
Instructions
In a large soup pot heat 1 tsp of canola oil over medium heat
Add in your meat careful not to crowd
Brown/ sear your meat and set to the side
Add in the chopped garlic and mushrooms
Lower the heat and pour hot pot base over the top
Add in the broth
Bring to a boil
Lower to barely a simmer (too hot will toughen your meat)
Add the meat back in and simmer for 30-40 minutes
minutes before serving add your noodles
minutes before serving add in your dumplings
Garnish with fresh herbs ( I love basil, but cilantro works too)
Serve with a dumpling sauce and sriracha
Or even a crusty hunk of bread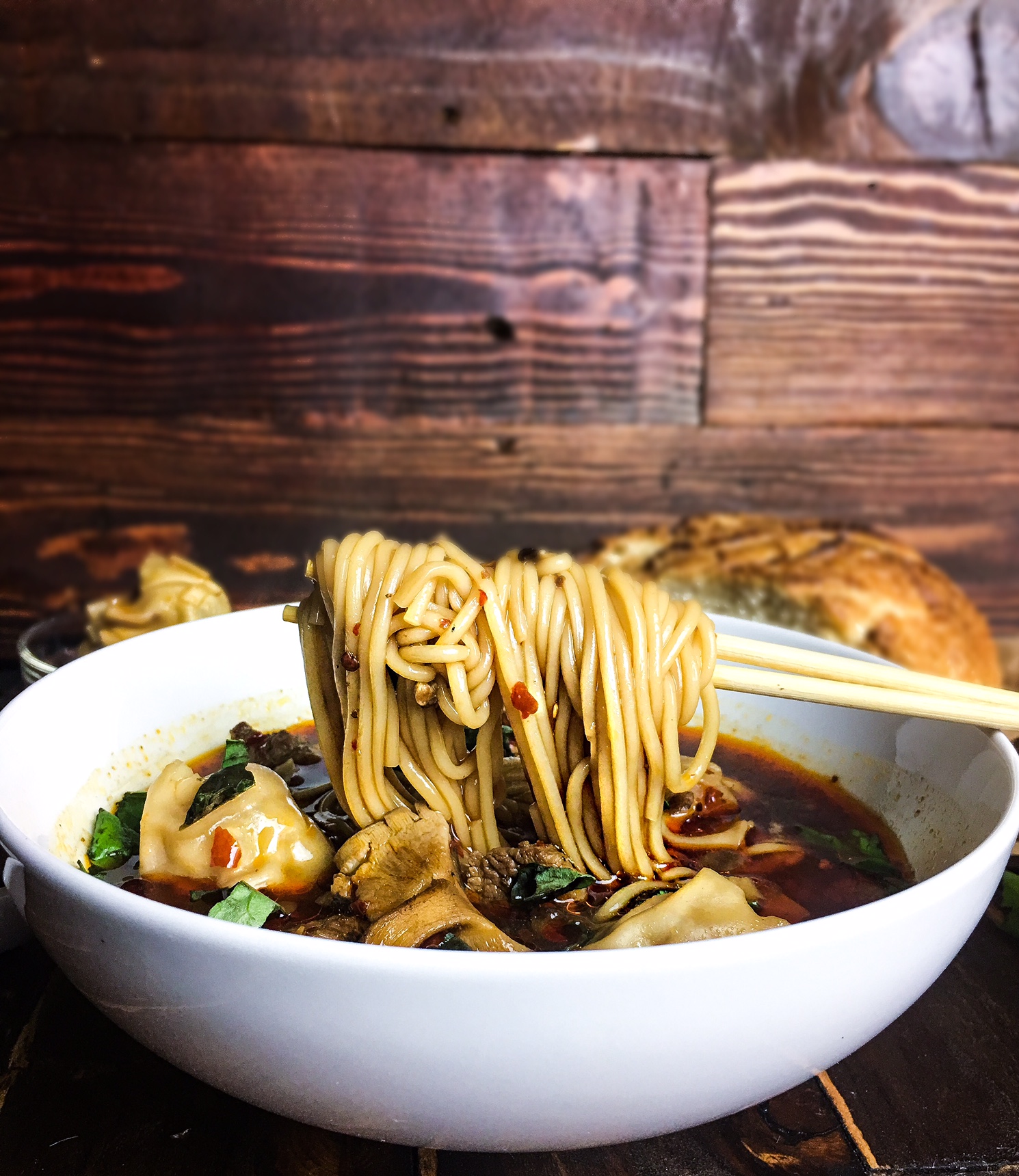 My Italian roots poked out a little here and I served mine with a load of crusty sourdough bread. Now before you judge my carbs on carbs on carbs just try a piece of warm bread dipped in this broth. It is so delicious!
I hope you enjoy my twist on a classic dish!