One of our first dates when we moved was to Pappadeaux.  They were advertising a shrimp bruschetta as an appetizer. We were thinking fresh tomatoes ,basil, grilled shrimp, and toast. To our surprise they delivered a platter of grilled shrimp, garlic bread, lemon wedges, and piping hot marinara sauce smothered in goat cheese. That combination to this day is still one of our favorites.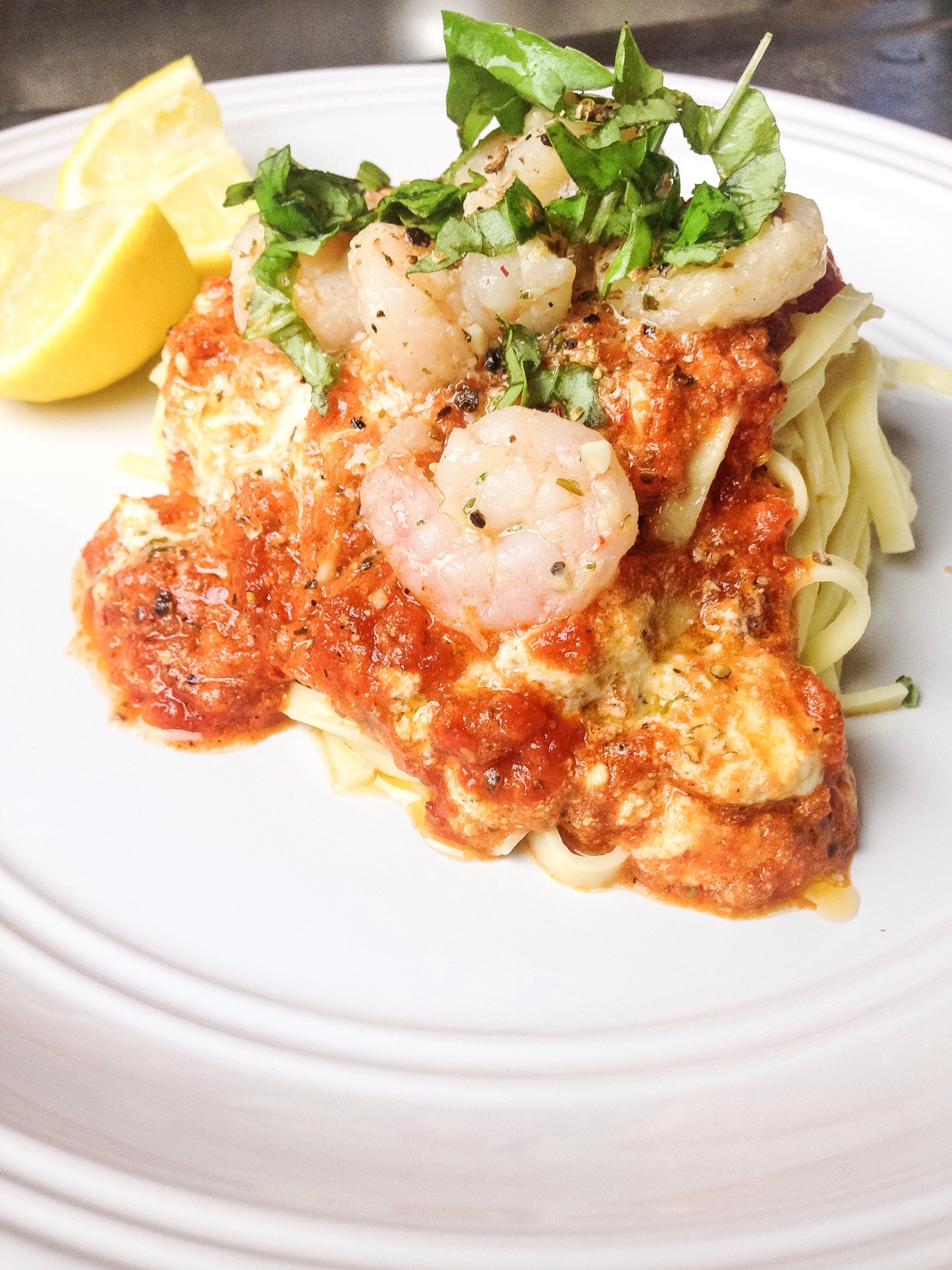 Since then I have tried different combinations to recreate those flavors. This is one of my favorite versions. Sauteed garlic and pepper shrimp over fresh linguine. Marinara with herb goat cheese broiled on top. Fresh lemon juice squeeze over everything with fresh cracked pepper. This dish is so fresh and rich at the same time. If you are feeling extra fancy garlic bread would be perfect on the side.
Shrimp and Goat Cheese Linguine
Recipe Type
:
Pasta, Dinner
Prep time:
Cook time:
Total time:
Rich marinara and goat cheese topped with sauteed shrimp over linguine.
Ingredients
1 pound of medium peeled shrimp
1 tbsp fresh shopped garlic
1 tbsp butter or olive oil
fresh cracked pepper
crushed red pepper
salt
1 cup of marinara
4 ounces of herb goat cheese
fresh linguine (dry works I just prefer fresh)
Fresh cracked pepper
1 lemon
basil
Instructions
Prepare the pasta and set to the side.
In a saute pan heat the butter/oil.
Add in the shrimp and garlic.
Top with cracked pepper.
In a separate pan heat the marinara and top with goat cheese.
Once the marinara is heated put in the oven and broil the cheese until bubbly.
Top the linguine with the cheese and marinara.
Add shrimp.
Squeeze the lemon juice over the shrimp.
Add cracked pepper and basil.
Serve!
Once you try this combo there is no going back. I really have not found anything else that delivers this perfect amount of spice, tang and texture. Try and it let me know what you think!
If you really cannot stomach the thought of goat cheese – Parmesan works too. Not as good as the goat cheese… but it will still go great. This dish will also work without the pasta. You can serve with bread on the side!