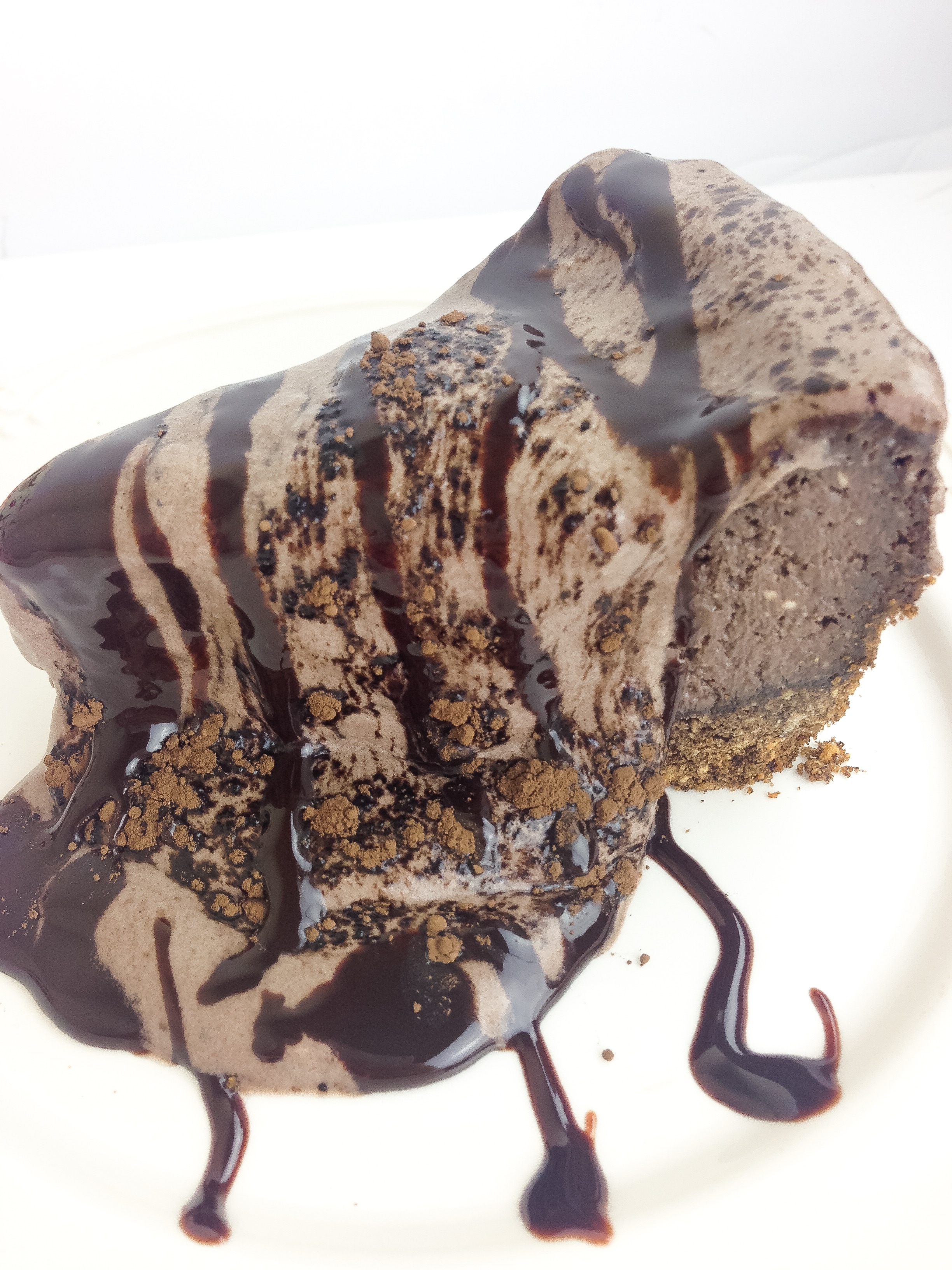 Cheesecake is one of those desserts that I usually bypass for a huge piece of chocolate cake. BUT if it is done right it moves to the front of my dessert line up. I like my cheesecake to be creamy and thick. Your fork should slide right through without much effort. This hot fudge cheesecake starts with a thick chocolate graham crust followed by a creamy rich dark chocolate filling then topped with a hot fudge whipped cream and more hot fudge topping.
Have you ever had the Godiva chocolate cheesecake from Cheesecake factory? This filling reminds me of that cake. This is sure to fill your every chocolate wish and desire. One slice sends me into a tiny chocolate coma.
Hot fudge is pretty much my favorite topping of life. Growing up I worked with my best friends at Dairy Queen all through high school. To this day still one of my favorite jobs. I worked with my best friends, we ate cup fulls of hot fudge sundaes, and all of our high school peers visited us during all of our shifts. Bless our sweet managers. I am sure we drove them nuts. 16 year old girls hopped up on sugar and hormones… Back to those sundaes though. Now at 16 I was very conscious of my eating habits so naturally I skipped the ice cream and I would have cups of hot fudge topped with a huge portion of whipped cream and sprinkles. Whipped cream has less calories because its lighter right ? 16 year old logic at its best.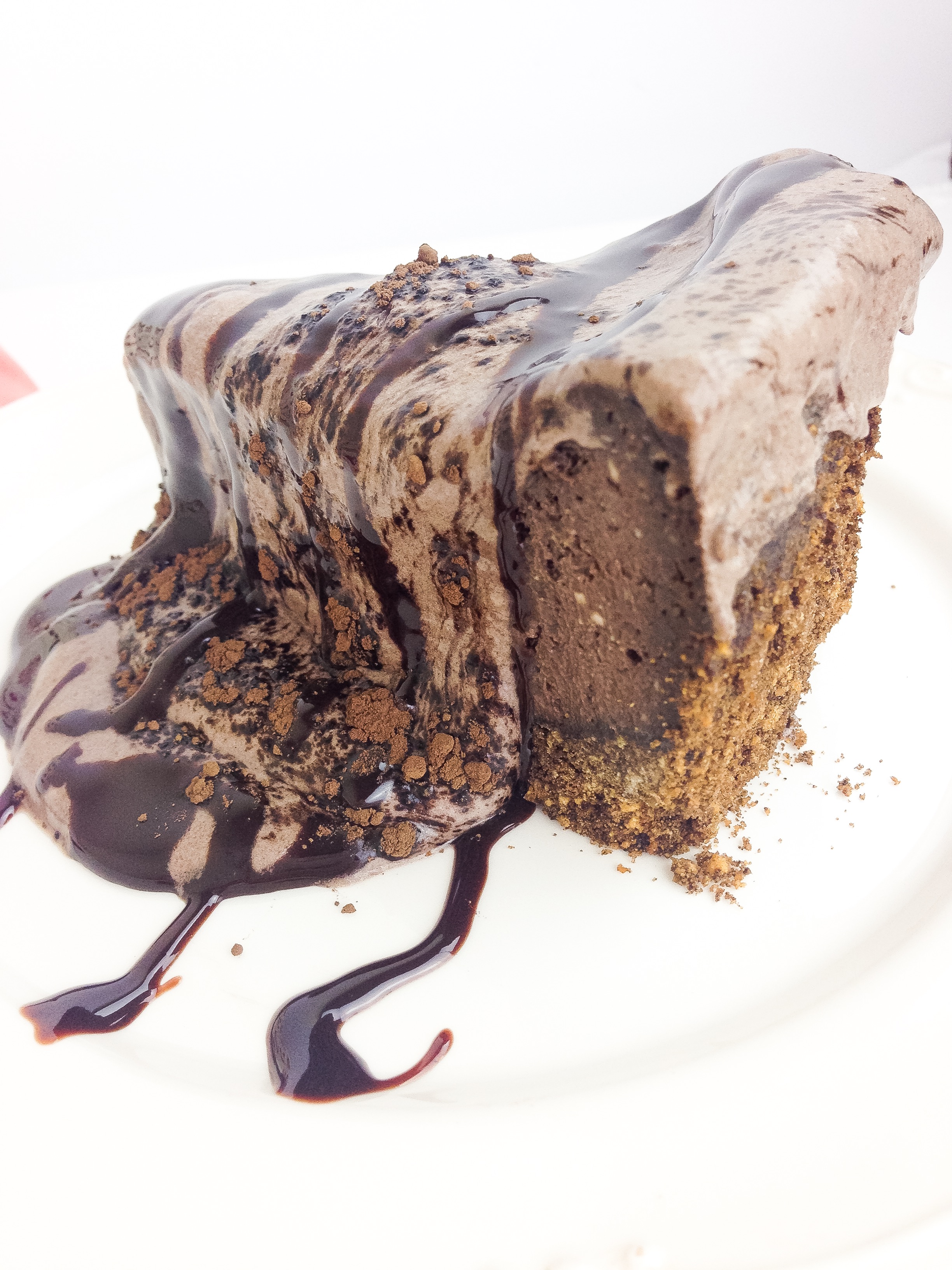 Hot Fudge Cheesecake
Prep time:
Cook time:
Total time:
Creamy chocolate cheesecake topped with hot fudge and chocolate whipped cream.
Ingredients
For the crust:
1 1/2 cups of graham cracker crumbs
2 tbsp dark chocolate powder
1/2 stick of melted butter
1/2 cup of sugar
For the filling:
3 eggs room temp
3 blocks of 8 oz cream cheese, softened
1/4 cup of hot fudge
1 1/2 cups of sugar
For the whipped topping:
1 cup of heavy whipping cream
1 cup of powdered sugar
2 tbsp dark chocolate powder
Instructions
Preheat oven to 375.
For the crust:
Mix the melted butter, sugar, chocolate, and graham cracker.
Press into the bottom of the pan.
I used a 6 inch spring form pan. You can use an 8 inch, but I wanted to have thicker slices.
Bake for 10 minutes.
With a mixer beat the eggs, cream cheese and sugar.
Add in the hot fudge.
Pour on top of the crust.
I am super lazy so I never make a water bath for my cheesecakes. I just put a pan of water on the bottom rack and it usually prevents any cracking. If it does crack it is not a huge deal because we are covering the top with whipped cream.
Bake for 1 hour and 15 minutes. The center should be very wobbly still. I turn off the oven and let the cake cool inside the oven for 20 minutes then on the counter until it is completely room temperature.
It is VERY important to cool off completely before putting the the refrigerator. You do not want those hard crystallized sugar bits to appear in your creamy cake.
Cool cheesecake in the refrigerator for 2 hours or overnight.
To make the topping whip the cream, hot sugar and chocolate powder.
Spread over the top.
Serve with extra hot fudge.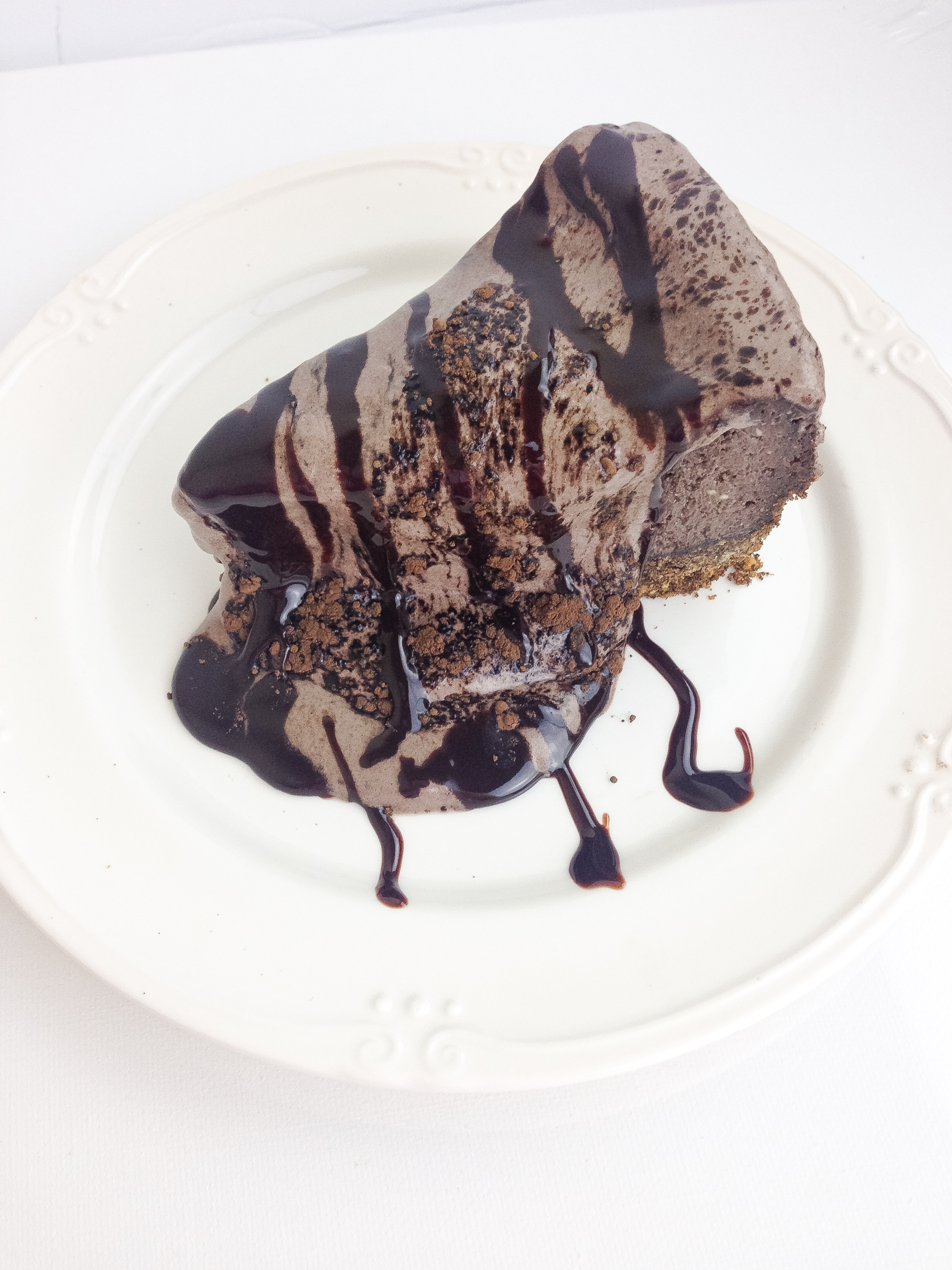 I hope you make this cheesecake! If you do don't forget to tag me! #kelliericecakes