It has officially been a month since we got married! Today is actually my birthday. Patrick took the day off so we could spent some time together. We have both been working crazy hours to catch up from our wedding time off.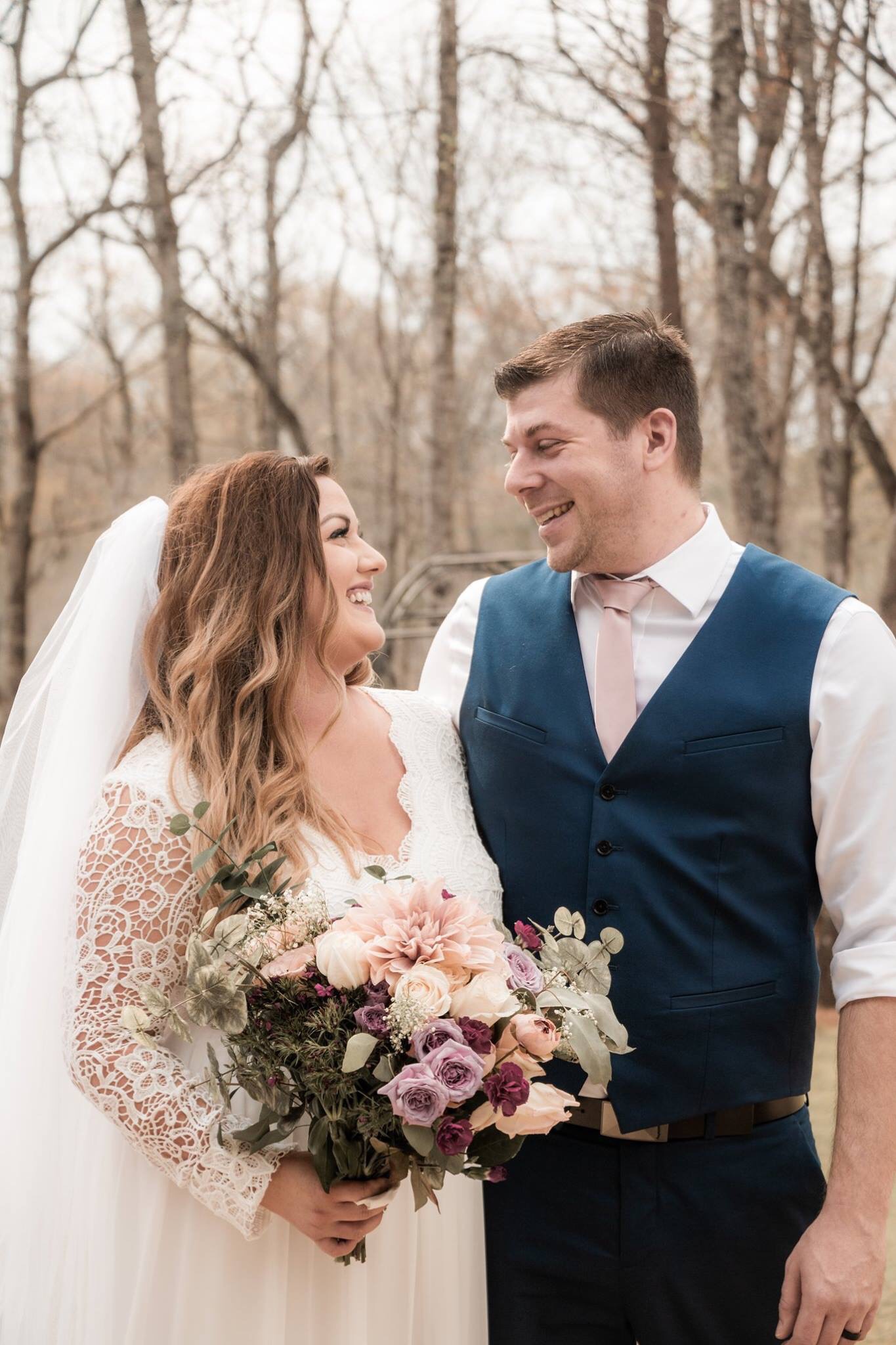 The entire past month has honestly been a blur. We got back our amazing wedding pictures and have been working on framing/hanging them throughout the house. Today we finished putting together some furniture that we desperately needed for our bedroom. Hopefully now I can stop tossing the clean laundry on our folding table ?.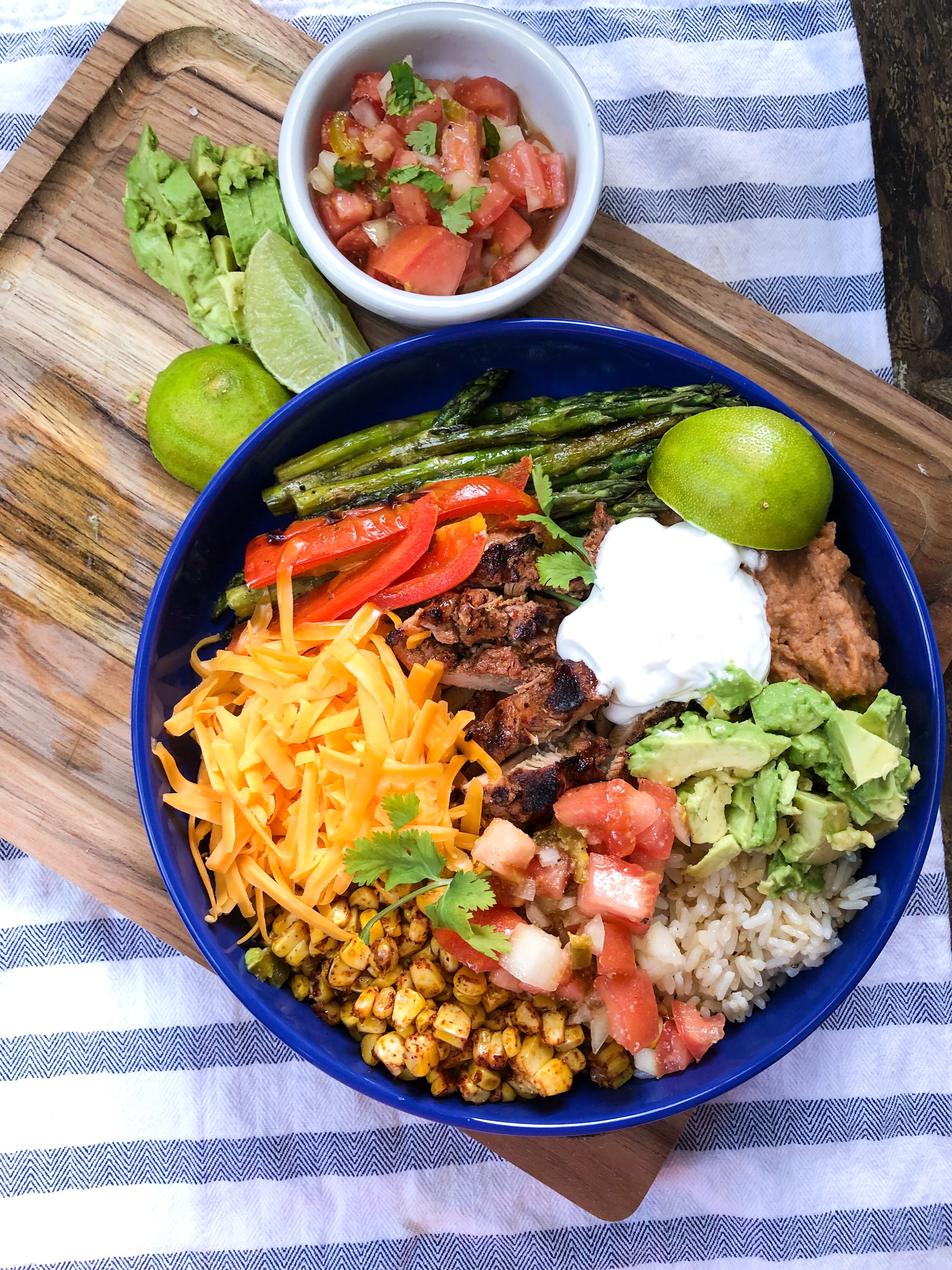 One thing that has definitely changed is our eating! We were eating straight junk food the first two weeks after we got back. Now that the weather is perfect we have been grilling almost every day.
These adobo bowls are so fresh and delicious! If you are going lower carb like me just skip the rice and beans here.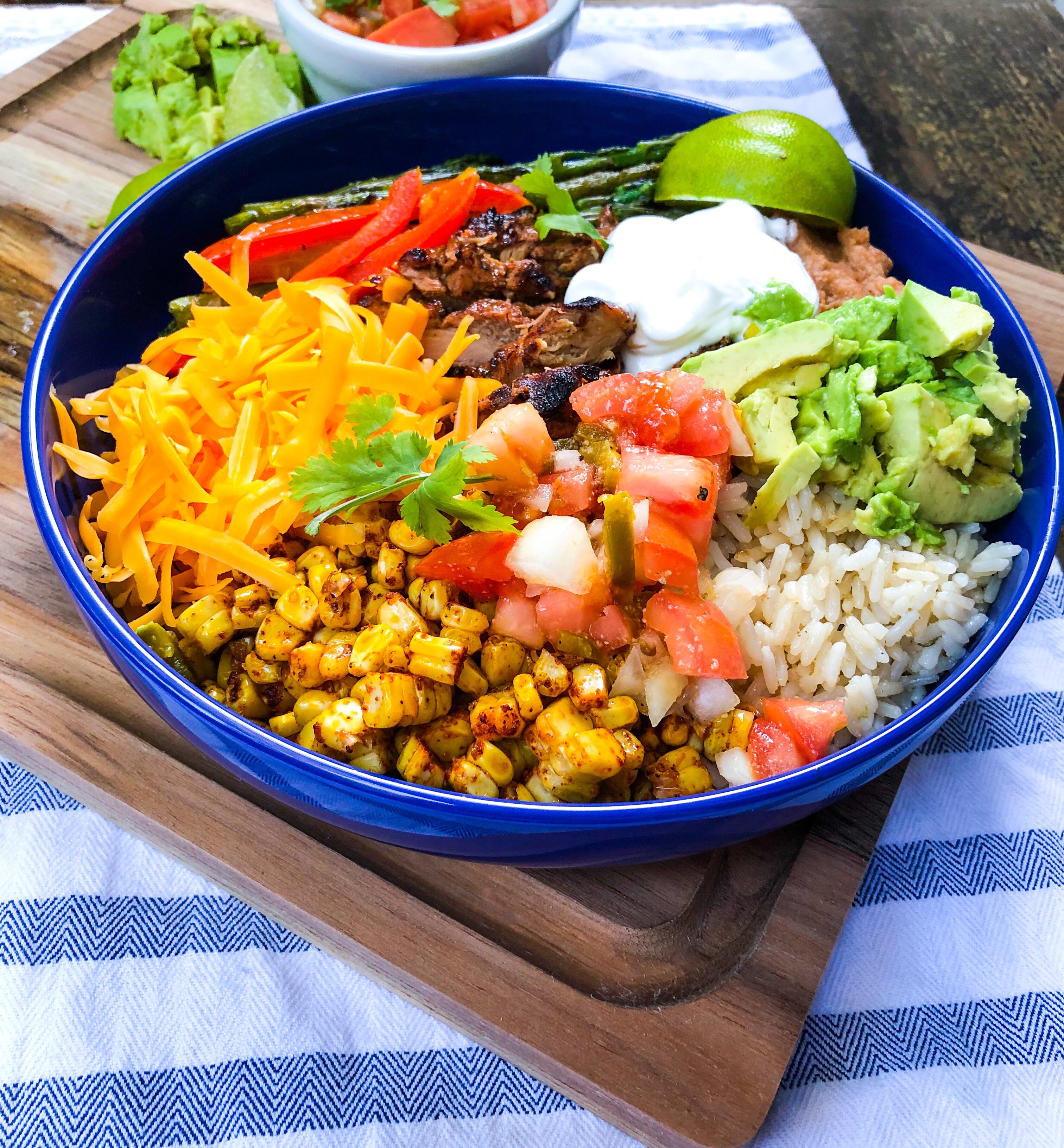 I love these because if you have anything left over it is so easy to toss into a wrap with some egg and have the best breakfast burrito. PS did you know mission tortilla has mini low carb wraps now? They are the perfect serving size and only 4 net carbs!
Ingredients
Boneless skinless chicken thighs
Chipotle chilis in adobo sauce
Garlic powder
2 limes
1 cup of prepared basmati rice
1 cup chopped peppers and onions
1 handful of asparagus
1 cup of pico or 1 cup of chopped tomatoes, onions, and jalapeños
1 can of low fat refried beans
2 ears of sweet corn
Optional toppings: avocado, cheese, sour cream
Directions
Prepare a grill or grill pan
Marinade chicken thighs with 1 chopped chipotle chili and 2 tbsp of sauce, 1 tsp garlic powder, salt /pepper, half of a lime juiced, 1 tablespoon of olive oil
Grilled until cooked through
Cook off your peppers and onions until fork tender ( I cook mine on the grill with a grill pan)
Grill the asparagus with a little olive oil and salt
Grill the corn with a little olive oil and salt (smoked paprika is good here too!)
Slice off the cobb and set to the side
Heat refried beans through
Toss the rice with the rest of the limes juiced, one lime zested, lots of pepper, salt to taste
Assemble the bowls! I like to put my veggies down and top with chicken, Patrick likes the rice and beans down and top with everything else
These are especially good with the chipotle Tabasco sauce drizzled on top!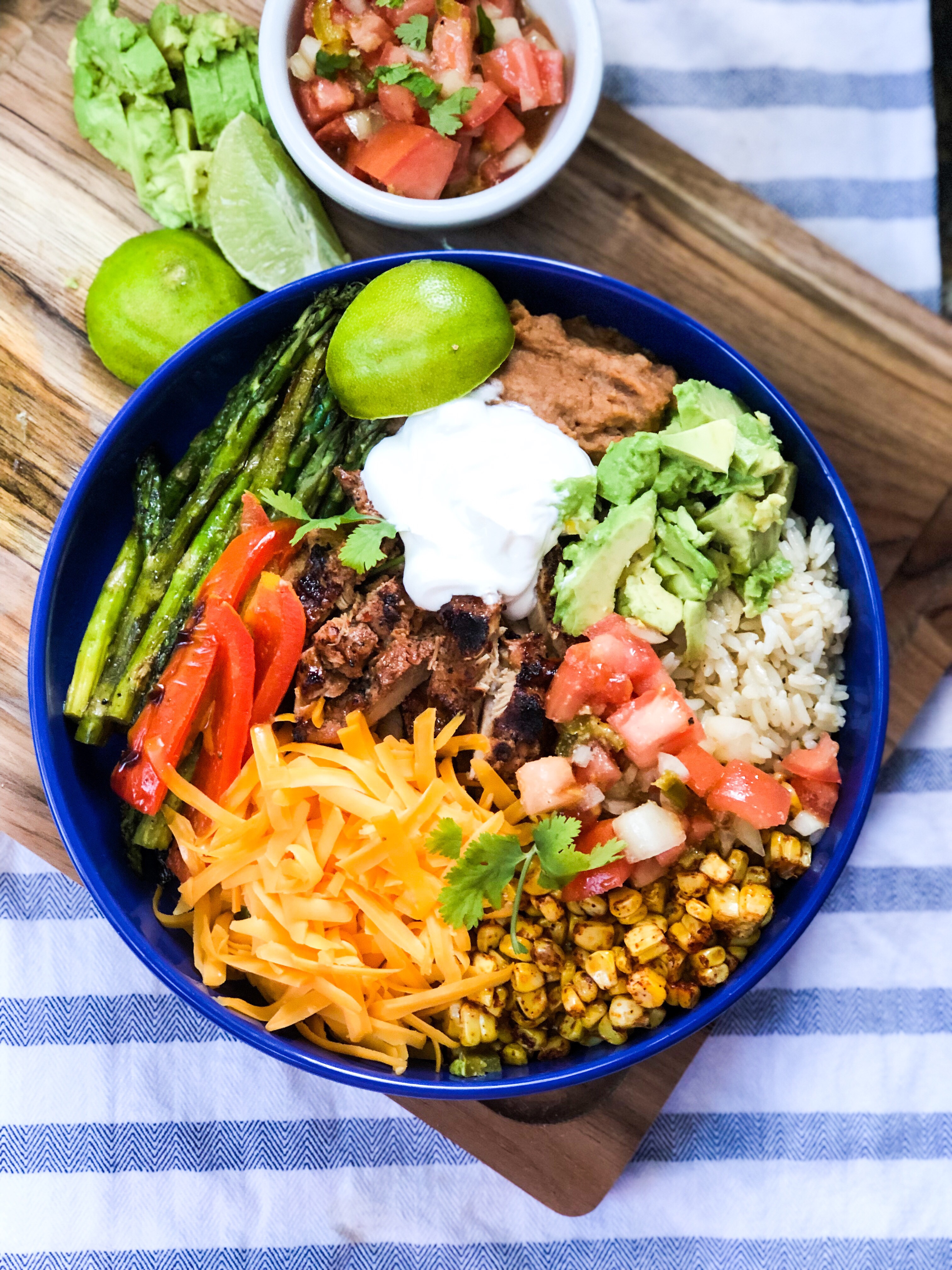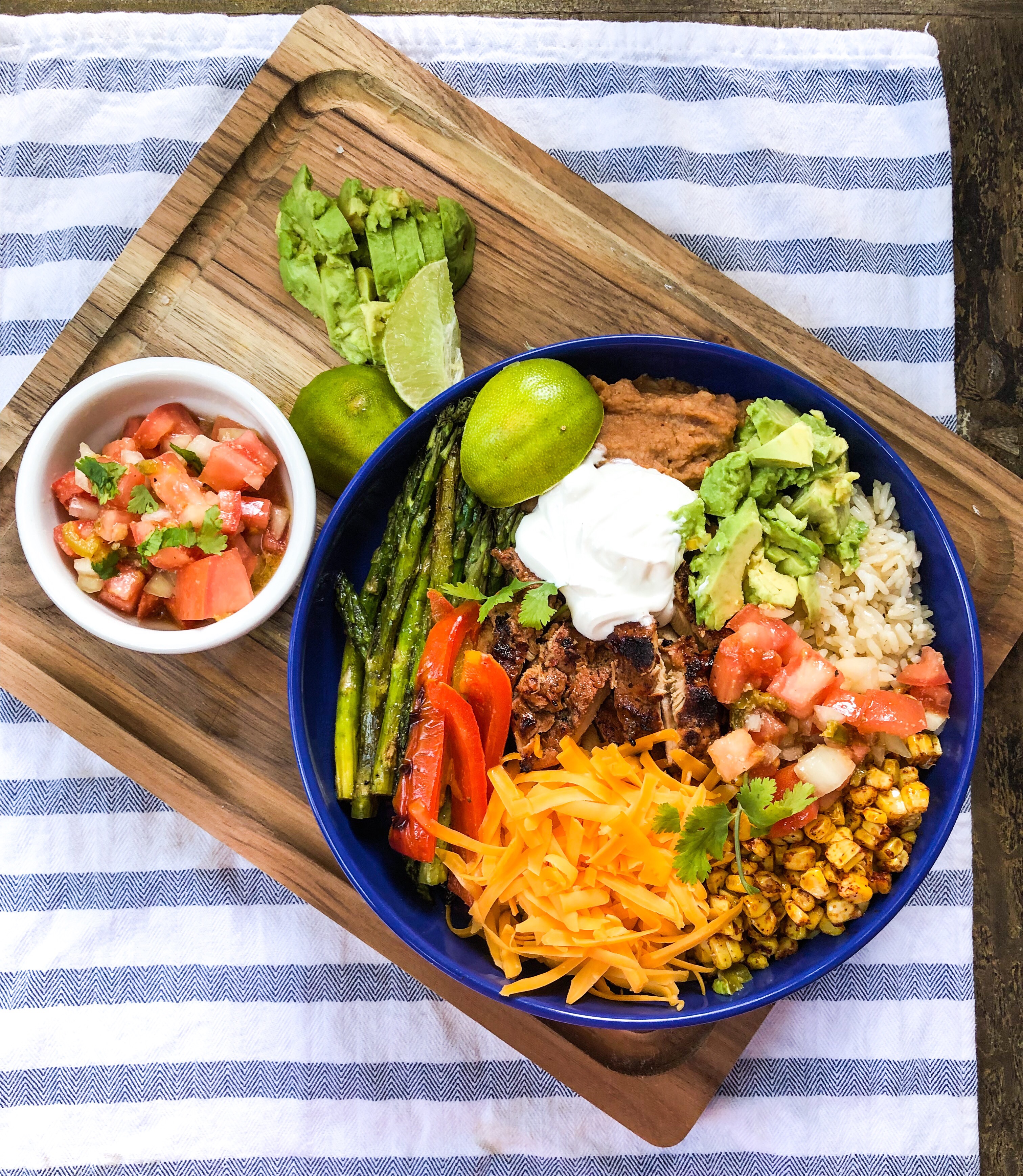 Enjoy!!!! These are one of our favorite meals! Super easy for meal prep!