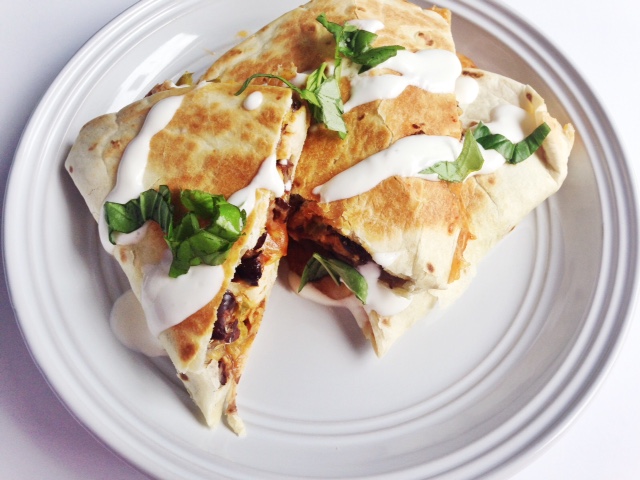 I have been wanting to tackle my front pathway for weeks. Finally the sun peaked out for a minute this morning and I ran outside with my new gardening gloves ready to give my pathway the makeover it deserved. Well, I learned several valuable lessons. Rubber grip gardening gloves do not protect you from thorns, lots of bugs live in bushes and I have 3 very different very stubborn species of vines growing around my porch. I may not have ended up with my dream front yard, but it does look significantly better. More festive.
     Lets talk quesadillas. Cheesy, spicy, creamy quesadillas. After all that yard work I needed something warm and filling. These tortillas are stuffed with chipotle chicken, black beans, cheese and jalapenos. I drizzled some sour cream and topped with some basil that I grew myself this summer!
What You Need:
1 chicken breast
1/2 tsp paprika
1/2 tsp garlic powder
1/4 tsp salt
1/4 tsp red pepper
1/4 cup chicken stock
1 can of black beans rinsed
1 large flour tortilla
1/2 cup mixed cheeses ( I used cheddar and monterey jack)
1/4 cup pickled jalapenos ( or fresh chopped)
1 tbsp chipotle Tabasco sauce
Fresh herbs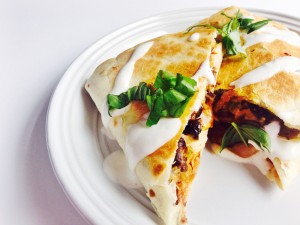 Directions: 
Chop the chicken breast set to the side. Spray a saute pan with cooking spray and heat over medium high. Add chicken and spices. Saute for about 5 minutes. When the chicken starts to stick add in the chicken stock and Tabasco. (Using cooking spray and chicken stock is a healthy alternative to oil.) When the cooking stock reduces down to a glaze turn off the heat and set to the side to cool off.
Heat another cooking spray prepared saute pan over medium low. Place one large tortilla flat in the pan. Add the chicken, beans, jalapenos and cheese. When the cheese begins to melt take a fork or spatula and fold the tortilla. Cook on each side until lightly browned. About 2 minutes each. Let the quesadilla cool for about 5 minutes before cutting. For the sour cream- add a tsp or milk or water for a nice consistency and drizzle over the top. You can use cilantro or basil. Chop and sprinkle on the quesadilla slices.
Enjoy!
Want to know what products I used?