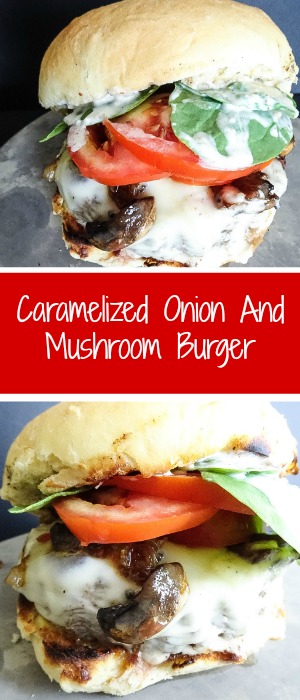 Yesterday I defrosted some chicken with the intent of grilling some chicken and veggies for dinner. Then all day at work I kept thinking about my food processor. Yes. My food processor. Do you ever sit around running through the inventory of your refrigerator and pantry? I do. ALL THE TIME. Sometimes after a long day at work I just do not feel like going to the store. So I sit and think about what I can come up with at home. Then entered the food processor. And BOOM this garlic aioli was born. Creamy garlic mayo with cayenne pepper, honey, and lemon juice. This sauce is a perfect blend of tart sweet and spicy. I grilled some burgers and burger buns, caramelized onions and mushrooms, then topped everything with this aioli. Yesssss.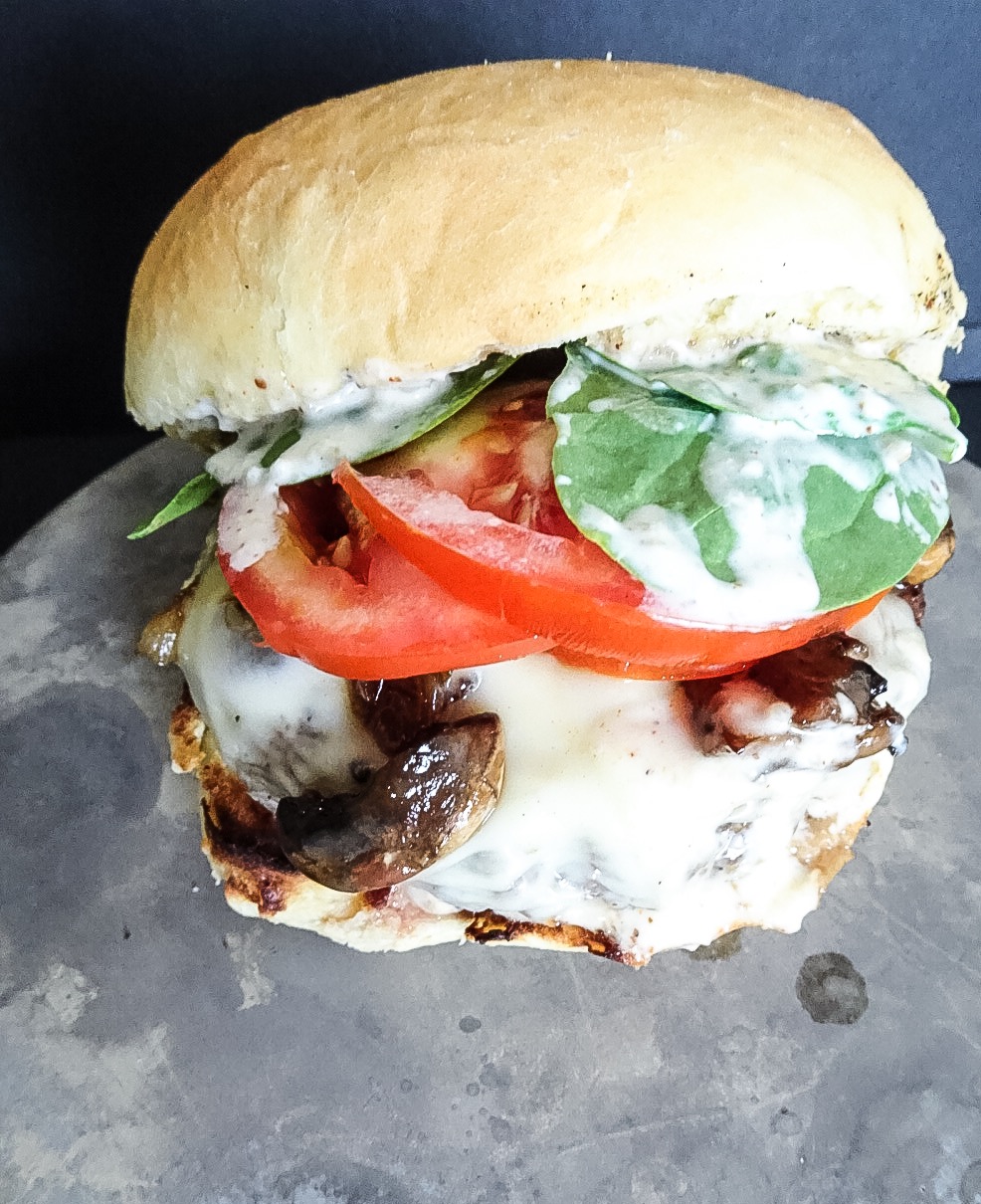 Caramelized Onion and Mushroom Burgers With Garlic Aioli
Recipe Type
:
Main Course, Burger
Prep time:
Cook time:
Total time:
Caramelized onion and mushroom burgers with garlic aioli.
Ingredients
2 Beef patties
Sliced American cheese
1 cup of bella mushrooms
1 small yellow onion, sliced
1 tbsp of butter
1 tbsp of brown sugar
1 sliced tomato
Spinach or lettuce
Large burger buns
1/4 cup of mayo (I like dukes the best for aioli)
1/2 lemon
1 tsp of cayenne pepper
1 tbsp chopped garlic
1 tsp honey
Instructions
Preheat the grill
In a blender or food processor mix the mayo, juice from the lemon, cayenne pepper, garlic, and honey
Set to the side
For quick and easy nights I have my local grocery's meat department form a few beef patties for me.
Grill the burgers to your preferred temperature (I like medium rare)
Add the cheese
In a sauce pan heat the butter, onions, and mushrooms
When the onions start to look translucent add the brown sugar
Lightly grill the burger buns, about 2 minutes
To assemble-
Add the burger to the bun and add a heaping spoonful of onions and mushrooms
Drizzle the aioli over the burger
Top with tomatoes and spinach (or lettuce)
Add the bun top and enjoy!
These burgers are super juicy and really pack a punch in the flavor department. As a side we had grilled squash, but I recommend onion rings if you aren't calorie counting like us! These buns were some homemade buns I made a while back and froze. Potato buns would be a great alternative.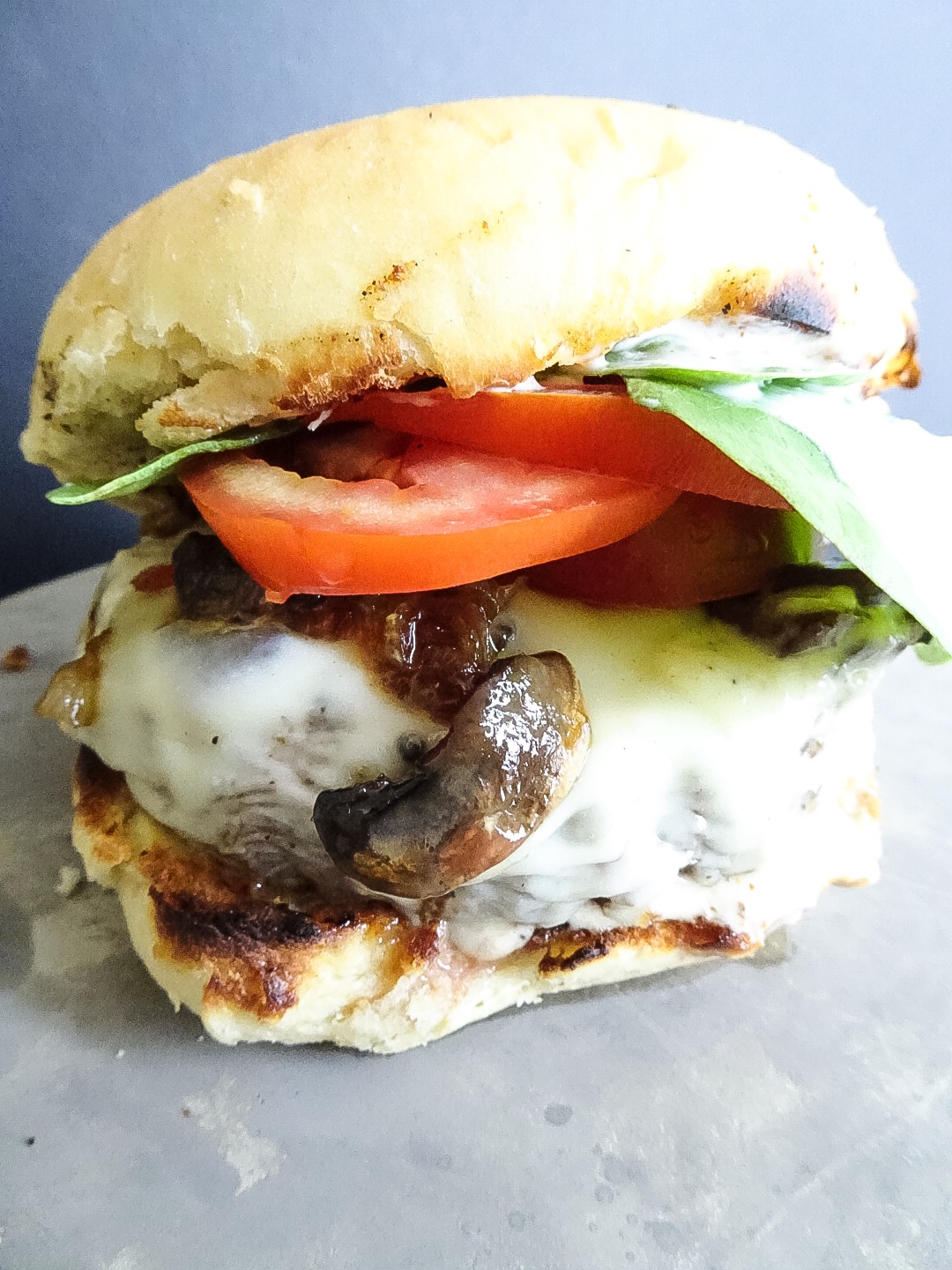 These pictures truly do not do these burgers justice, but when I was taking them the sun was almost gone and the delicious onion-y beef-y smell kept tickling my nose. You will understand when you make them 😉