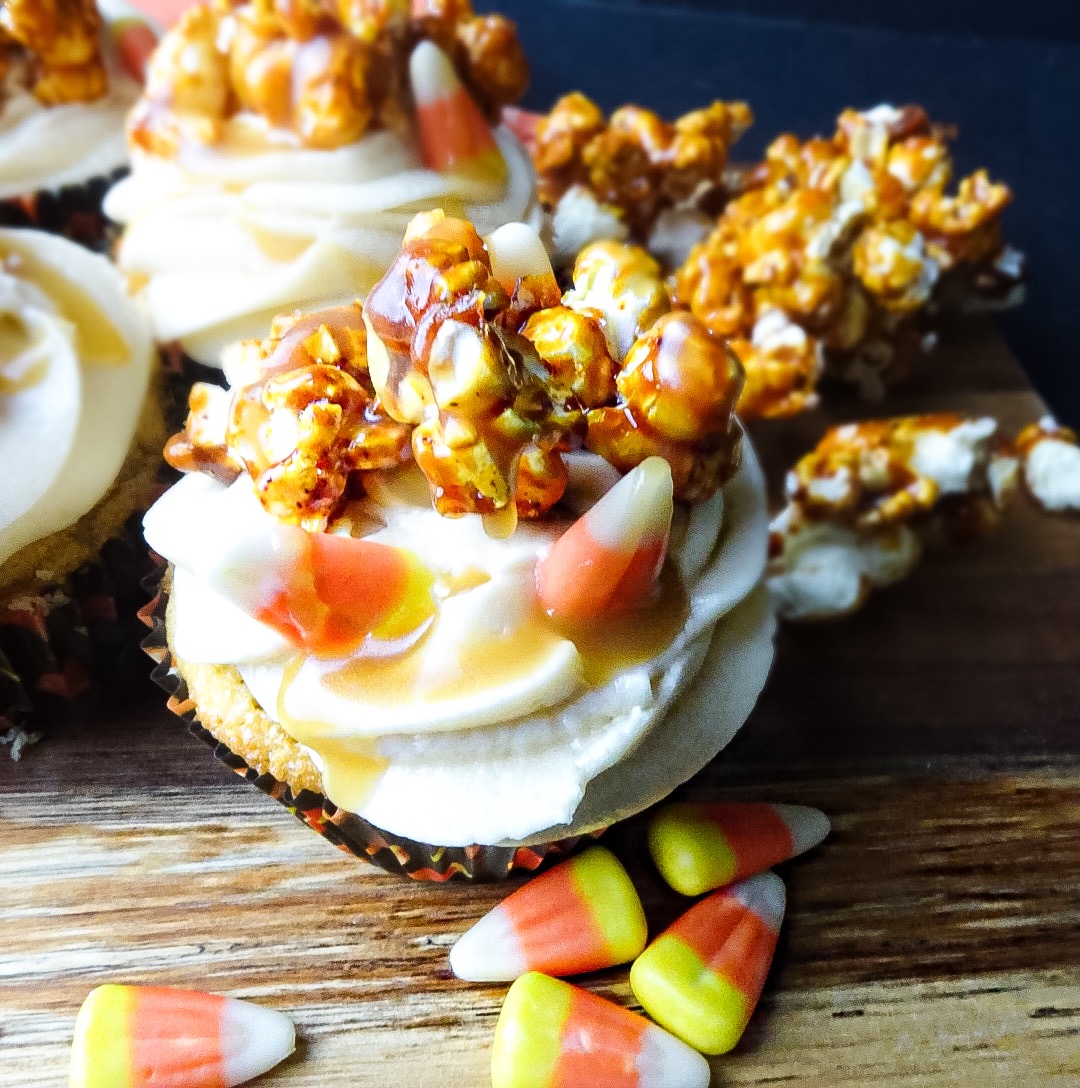 I am so excited for the fall season! This is my first official Halloween post. I have so many things happening this month that I can't wait to share! These caramel corn apple stuffed cupcakes look complicated, but actually didn't take me long at all. I started with a vanilla cupcake and added cinnamon apples, then topped with caramel buttercream and spicy caramel corn. I added some candy corn for fun then drizzled salted caramel over everything.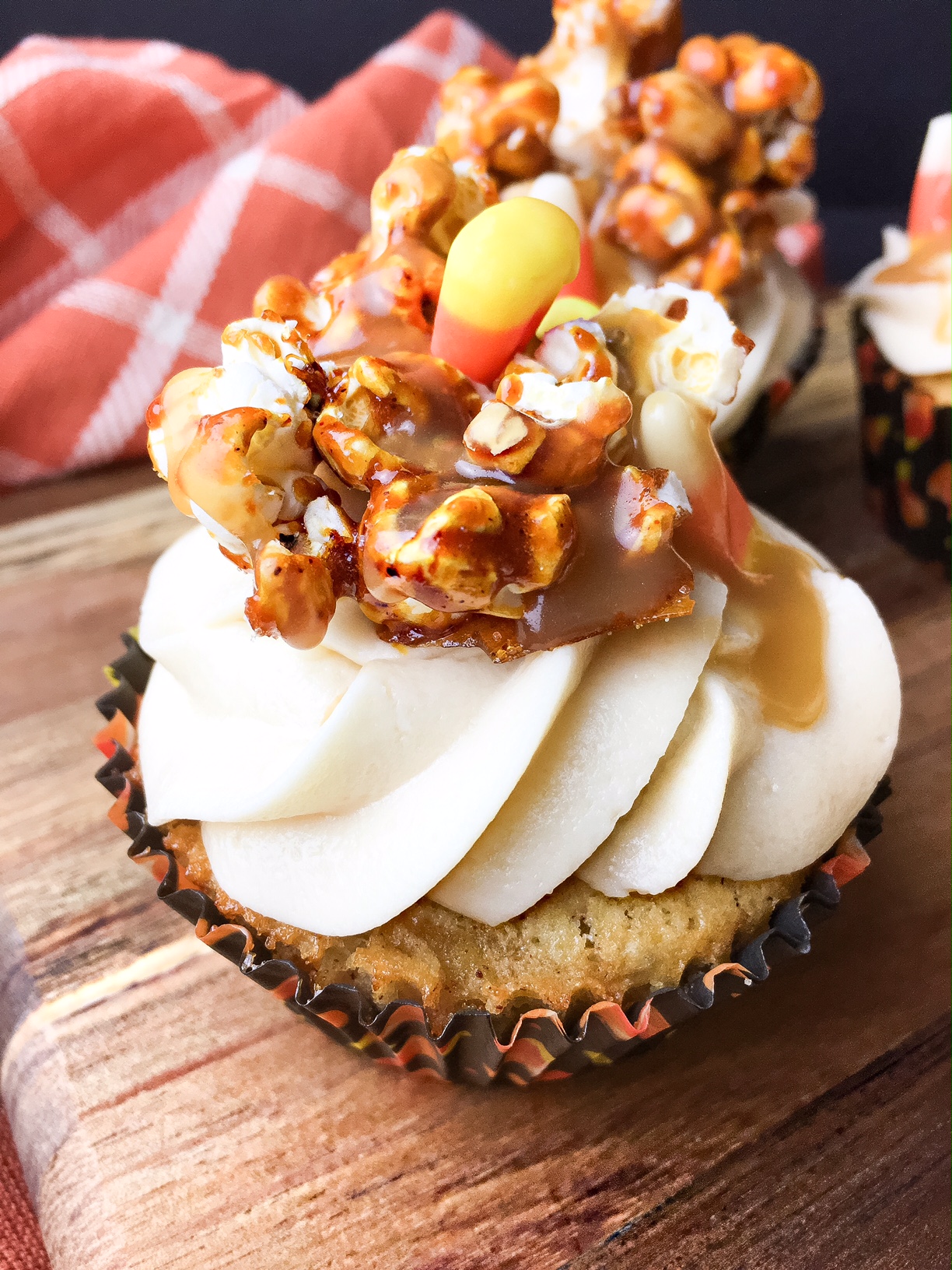 This recipe is for a half dozen cupcakes. I wanted to make a smaller size because usually cupcake recipes can make up to 24 cupcakes at a time and that is just too much for me. You can double or triple this recipe if you need more.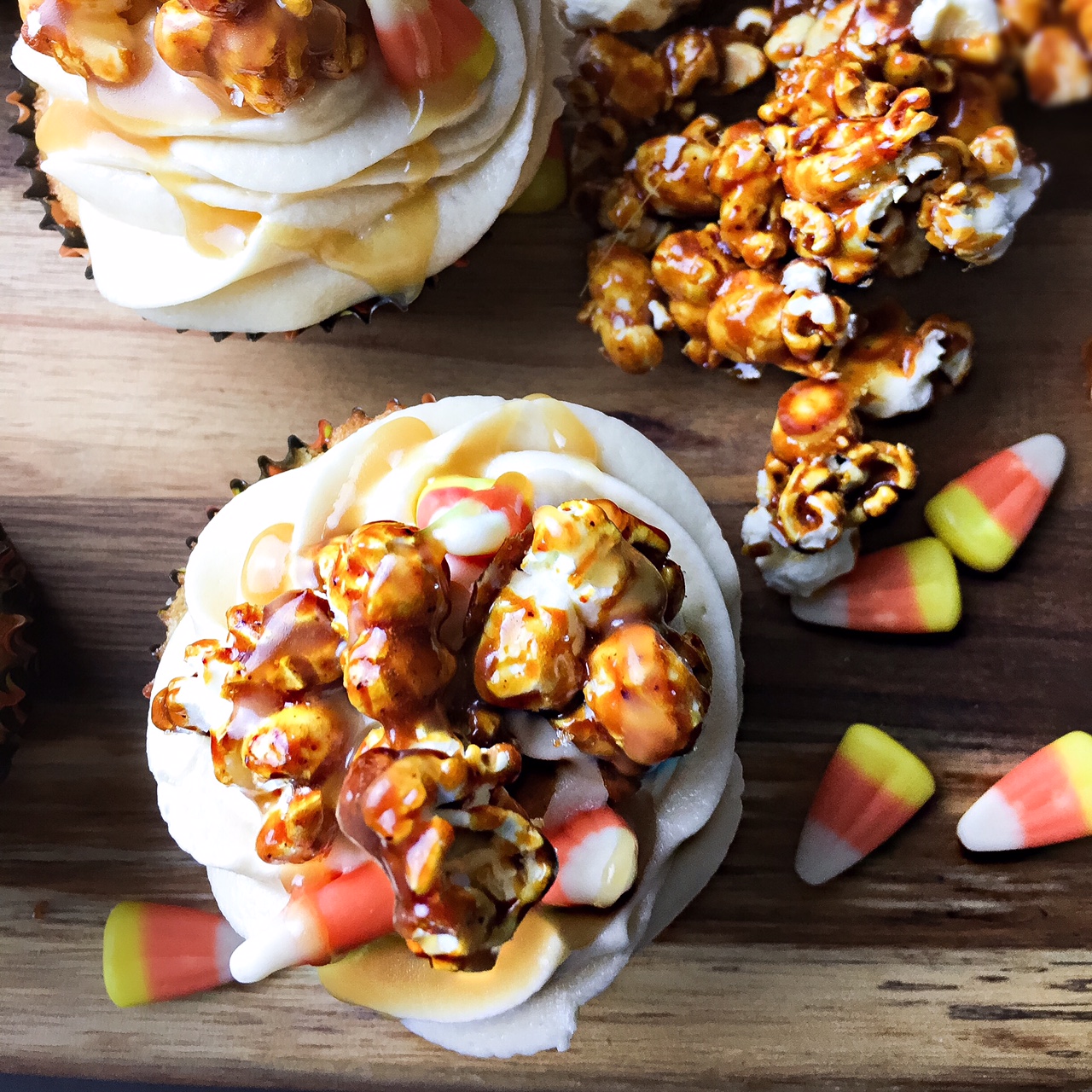 My favorite part of these has got to be the caramel corn topper. Patrick and I always pick up a bag of "cave man crunch" which is popcorn tossed in caramel with peanuts and cayenne pepper. It is so delicious and one of our favorite after dinner desserts. I thought it would be amazing with these apple cupcakes. If you are not a fan of candy corn you can definitely skip using them. I just really liked the way they added color and matched my cupcake wrappers.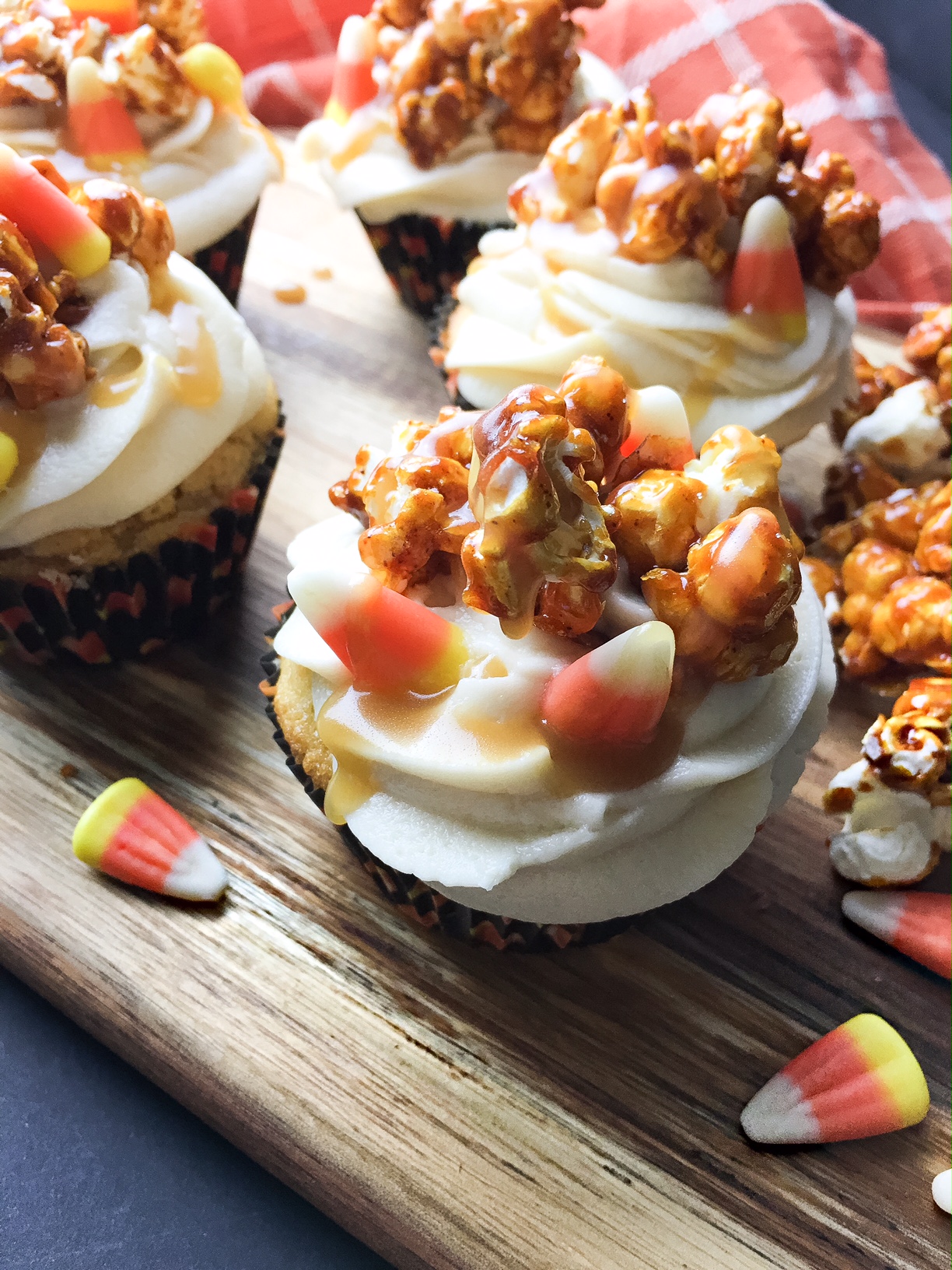 Caramel Corn Apple Stuffed Cupcakes
Recipe Type
:
Dessert, Cupcakes
Prep time:
Cook time:
Total time:
Vanilla cupcakes stuffed with cinnamon apples then topped with caramel butter cream and spicy caramel corn.
Ingredients
For The Cupcakes:
1/4 cup of sugar
1 egg at room temp
1/3 cup of milk
1 tsp pure vanilla extract
1/4 cup of salted butter melted
1/2 cup of AP flour
1/2 tsp baking powder
1/2 tsp cinnamon
For The Filling:
1 gala apple peeled and chopped
1 tsp cinnamon
1 tbsp butter
For The Buttercream:
3 cups of powdered sugar
1/4 cup of heavy cream
2 tbsp of caramel sauce
1 stick of salted butter
For The Caramel Corn:
3 cups of sugar
3 tbsp of butter
1 tbsp of water
1/4 cup of cream
2 tbsp of coconut oil
1/2 cup of yellow popcorn kernels
1/2 tsp of baking soda
1 tsp of salt
1 tsp of cayenne pepper
sea salt
Caramel sauce for topping
Instructions
For the cupcakes:
Preheat the oven to 350 degrees.
Cream the butter, sugar and vanilla.
Add the egg.
Add in the baking powder, flour, and cinnamon.
Slowly mix in the milk.
Pour into cupcake liners.
For the apple filling:
In a microwavable bowl mix chopped apples, butter and cinnamon.
Microwave on high for 3 minutes.
Mix then add one tbsp to the top of each cupcake.
Bake for 15-20 minutes until golden brown.
For the buttercream:
Cream the flour and sugar together.
Add in the caramel.
Add cream until desired consistency.
For the caramel corn:
Heat coconut oil over medium high on the stove top.
Add the kernels and cover.
Slowly shake the pot until kernels are all popped or until the popping slows.
In a small sauce pan heat butter, sugar and water over medium low.
Do not stir.
Leave for 5-10 minutes until the sugar turns golden.
Add the cream and stir very quickly.
Add the baking soda and pepper.
It will start to bubble a lot.
Keep stirring until it slightly thickens.
Remove from heat.
Toss the pop corn in the caramel and let sit for 10-15 minutes.
Break apart.
To assemble:
Take a cooled cupcake and swirl the buttercream on top.
Add the candy corn and caramel corn.
Drizzle with caramel sauce and sea salt.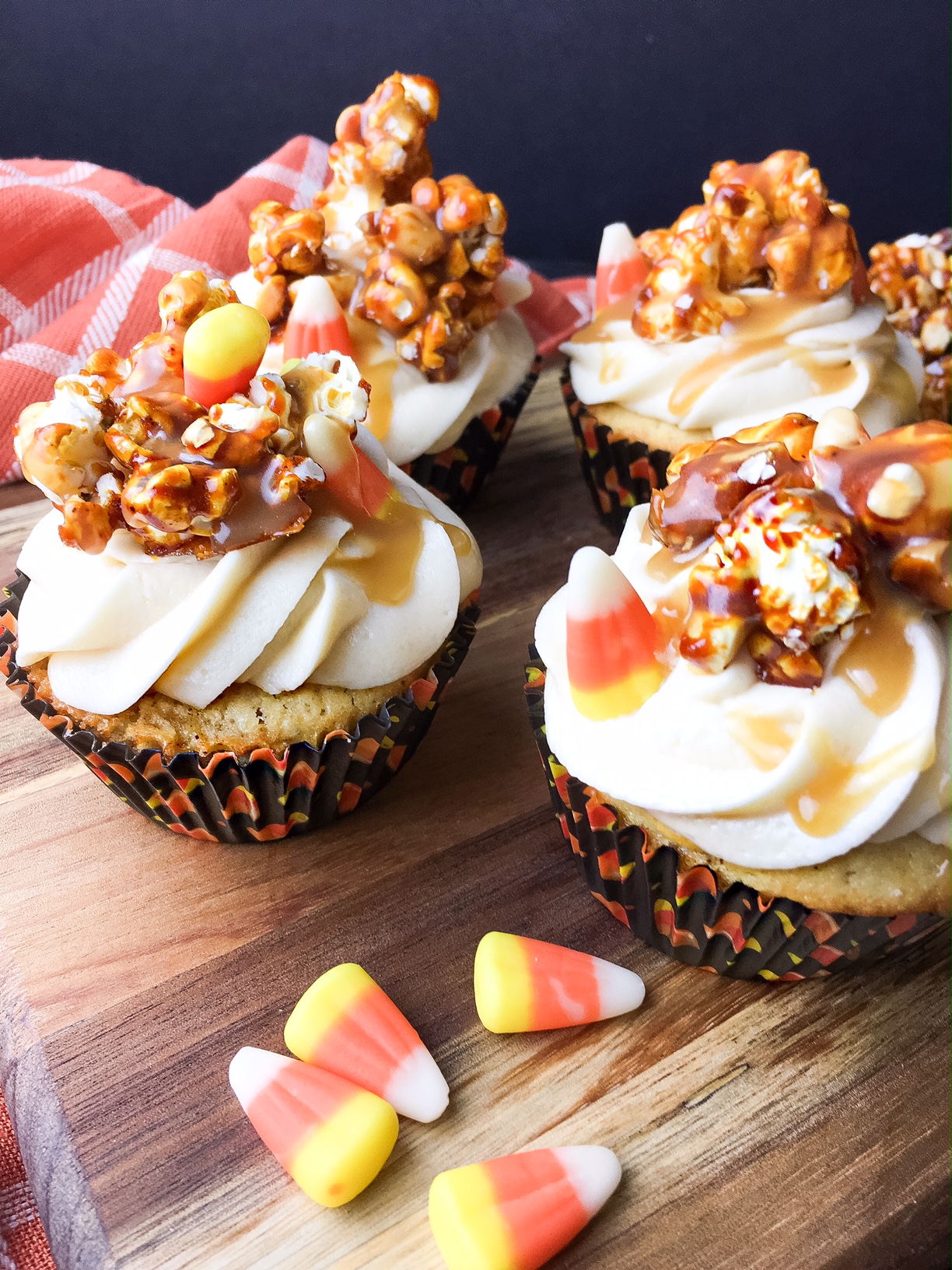 These cupcakes are so amazing. So sweet and salty. My two favorite things!