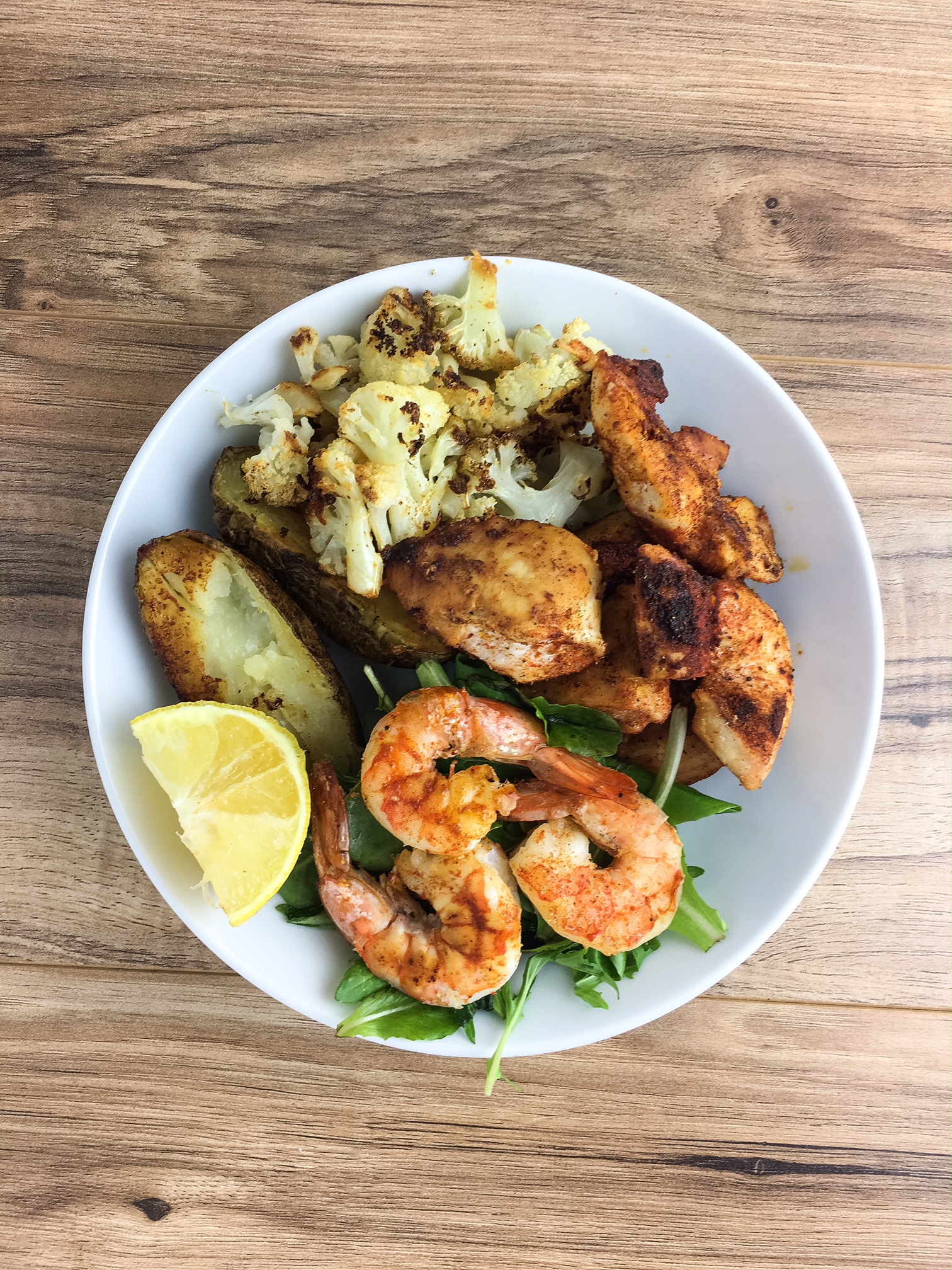 Ok I admit it. I AM obsessed with harissa spices. I love having a spice mixture that slowly builds up heat. You can use a little for a mild spice or a lot for a spicy flavor that slowly warms your palate. Baked harissa chicken was definitely at the top of my to do list. I wanted to try something that would work with the Whole 30 plan or just if you need something fast and healthy! This chicken and shrimp is baked with lots of harissa seasoning, paprika, salt and pepper!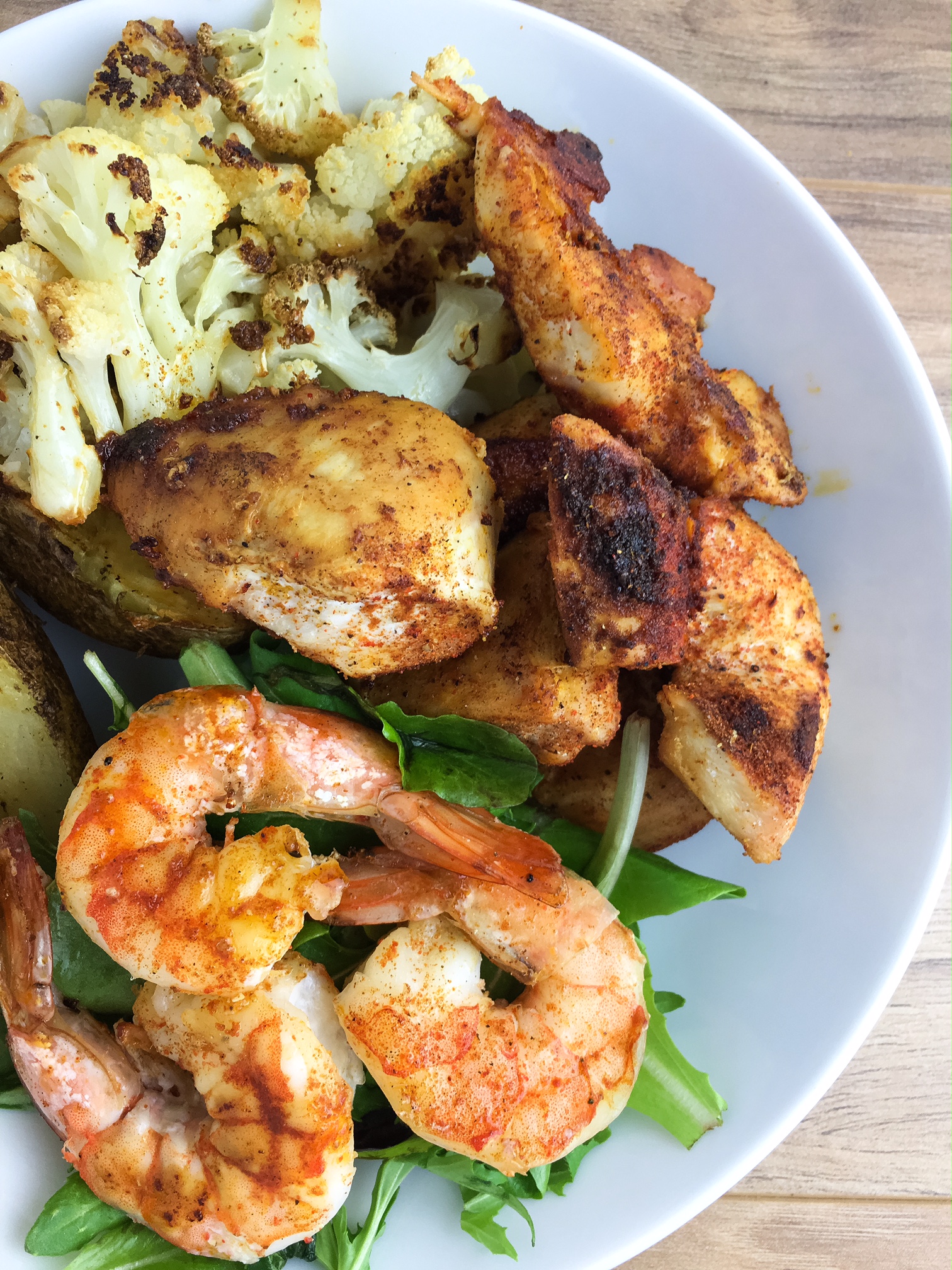 I needed something that could be thrown together fast after a long day at work. I dropped a little coconut oil on a sheet pan and spread out some chicken breast, cauliflower, and halved potatoes. After liberally seasoning everything I baked for 20 minutes. You are going to see the chicken start to have this gorgeous deep red crust and the cauliflower will start to brown. Flip everything over and season again. Add shrimp and season with a little salt and pepper.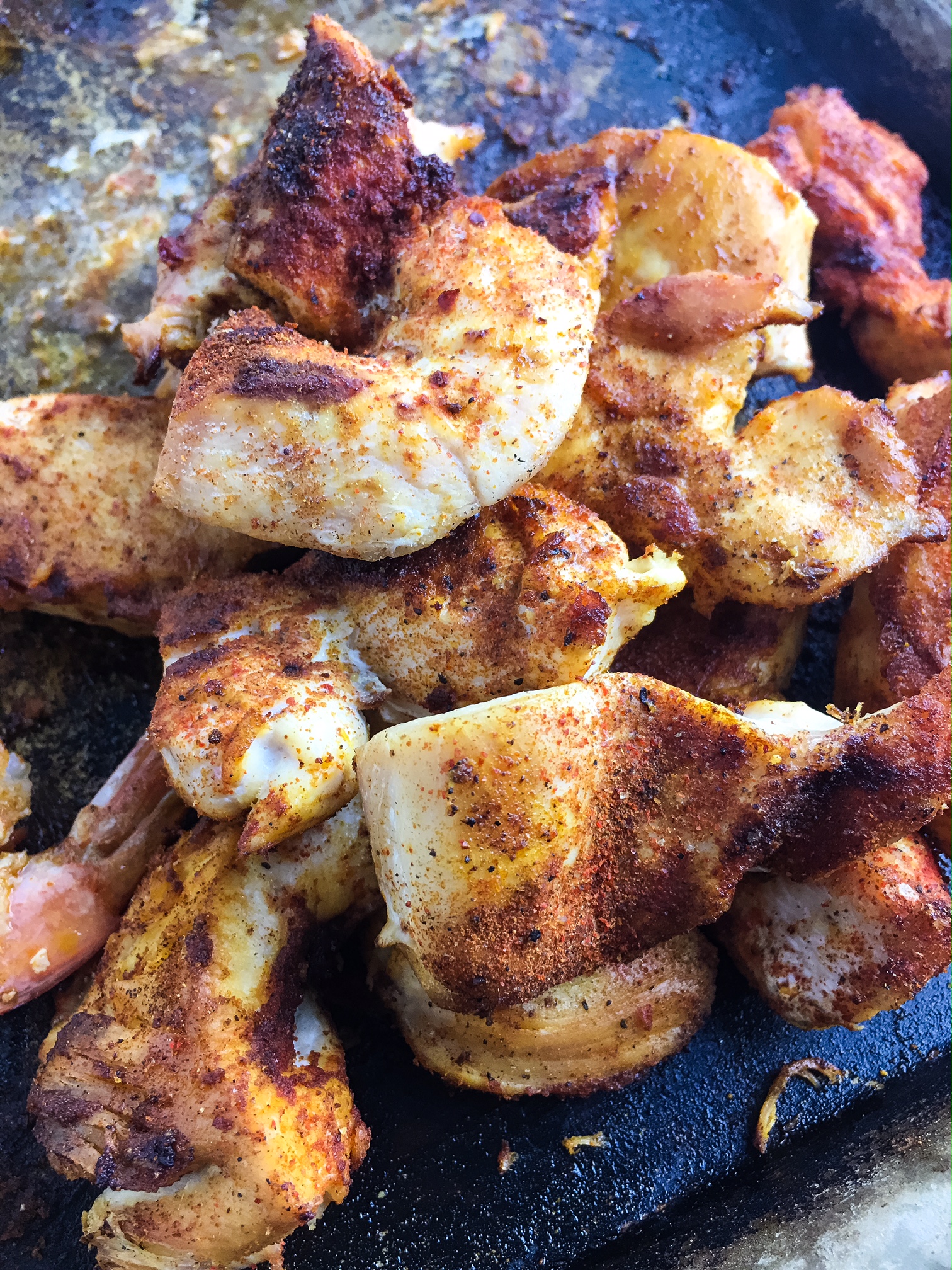 One thing you are going to want to do is add a little moisture to the sheet around the half way point. I completely forgot to do this and a few of my chicken pieces dried out. You can drizzle on a little chicken stock, olive oil, coconut oil, even water just make sure you add it to the chicken before your first flip.
Baked Harissa Chicken and Shrimp
Recipe Type
:
Whole 30, Chicken
Prep time:
Cook time:
Total time:
Baked harissa chicken and shrimp with lots of veggies.
Ingredients
1/2 pound of chicken breast, cubed
1/2 pound of large raw shrimp, shells removed
2 tbsp of coconut oil
2 tbsp of harissa seasoning
1 tbsp of paprika
salt and pepper
1/4 cup of chicken stock or water
1 lemon halved
2 cups of cauliflower
2 small potatoes
Instructions
Preheat the oven to 400 degrees.
Grease the a large sheet pan with coconut oil.
Spread out the chicken cubes and cauliflower.
Season with half of the harissa and paprika.
Salt and pepper.
Halve the 2 potatoes and place them flat side down on the sheet.*
Bake for 20 minutes.
Drizzle water or stock over the chicken pieces.
Flip everything over and season with remaining harissa and paprika.
Salt and pepper.
Now add the shrimp and season with salt and pepper.
Bake for another 10-15 minutes. Or until chicken reaches 160 degrees.
Once everything rests your chicken should come up to 165 degrees.
Sprinkle with lemon halves.
* I Microwaved my potatoes for 5 minutes before cutting in half to make the cook time a little faster.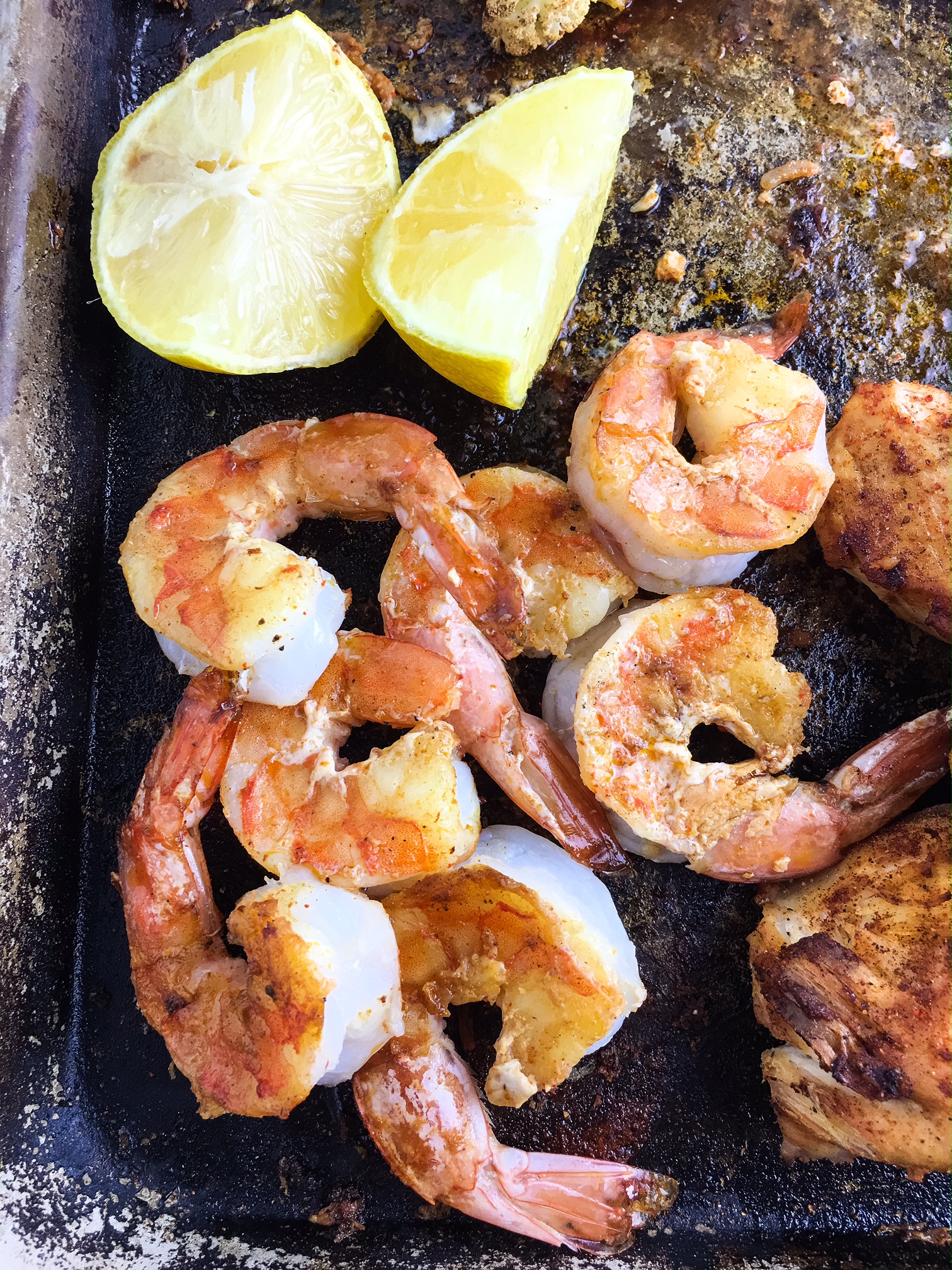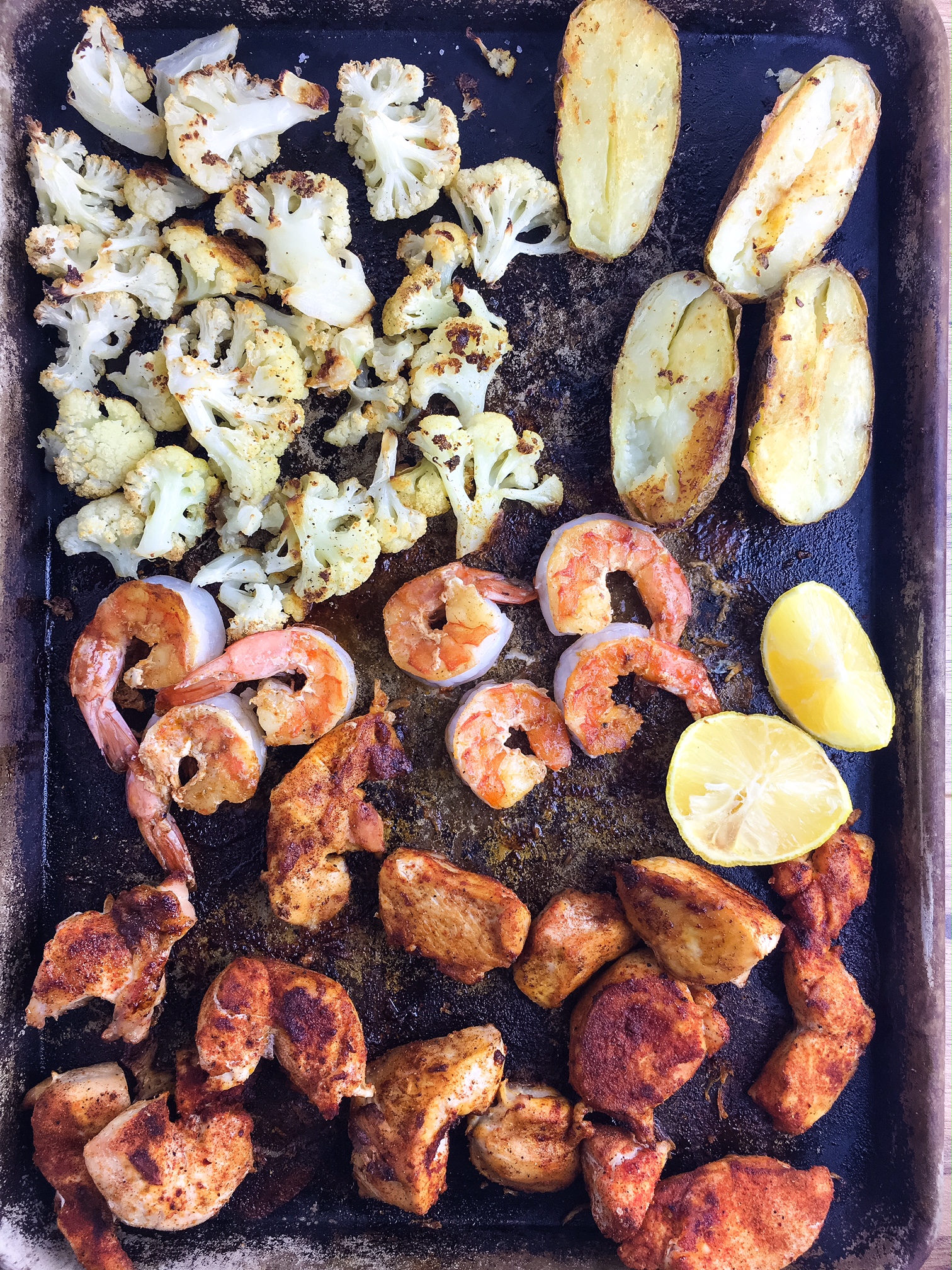 This is definitely one of my new favorite meals. I started with a bowl of mixed greens and added my chicken, shrimp, and veggies then squeezed a little more lemon on top. Sriracha is also a delicious topper!
Are you trying to eat healthier this year? If so what are some of your favorite recipes???