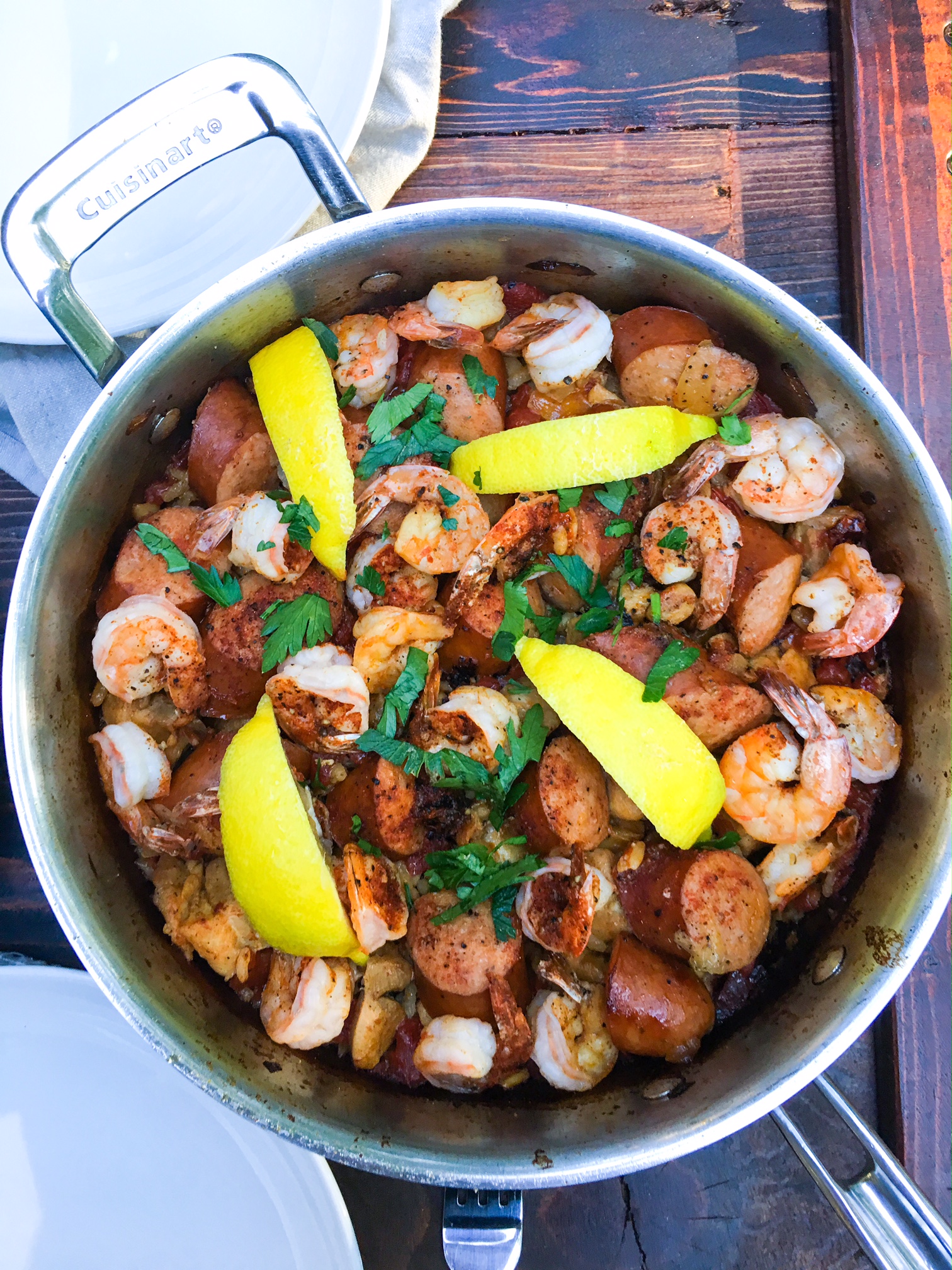 I have always had this weird obsession with paellas. They are so bold and bright with deep flavors. One of the reasons I believe they are often forgotten is the hefty price tag associated with the dish. Saffron is one of the most common ingredients found in paella. This spice is usually around $15 for a handful. While I LOVE saffron I decided to trade it out for smoked paprika. You will still get a bold flavor and instead of the rich yellow or orange the paprika turns the rice a deep red.
Another easy swap is using andouille sausage over the typical cured Spanish chorizo. When you pan fry the andouille you still get a ton of flavor to develop in a short amount of time. I love sauteing my veggies with the fried sausage to really add depth to every bite.
My grocery store does not have paella rice ready available so I switched it for arborio rice. Arborio rice is just tiny enough to soak up every little bit of broth. I actually kept adding extra broth to make sure I still had a little sauce for my bread. I skipped out on the mussels just because those are not my personal favorite. You can definitely add a few in at the end. Boneless skinless chicken thighs and shrimp are what I look forward to in a paella. Both of these proteins usually have great prices in my area especially if you have a Sprouts farmers market near by.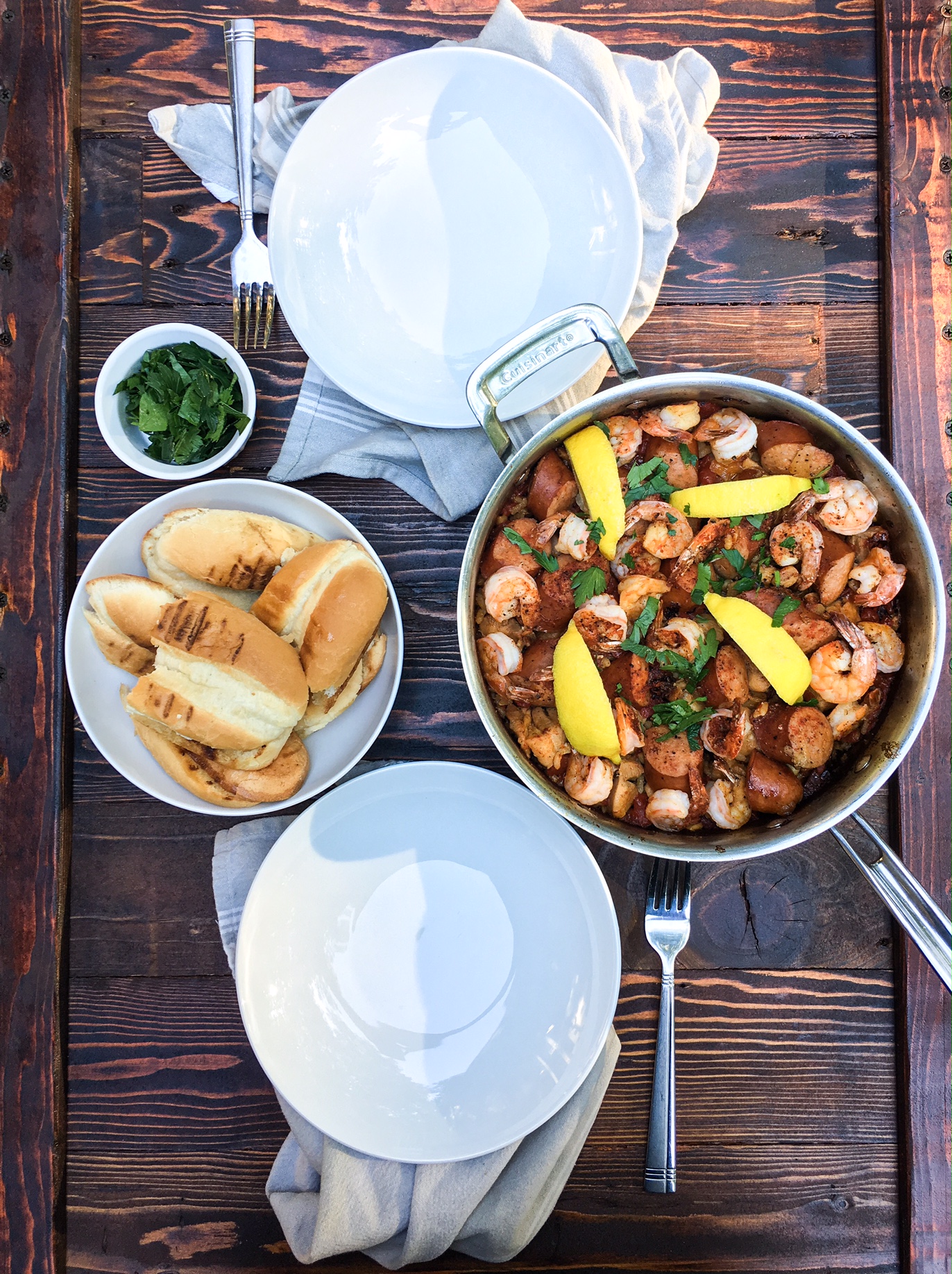 While I do believe an authentic paella taste is extremely hard to replicate without saffron- this affordable version is just as soul satisfying to me. It is such a beautiful dish and packed full of flavor. Honestly this came together so quickly as well. If you are looking to impress on a budget, this is the recipe to make!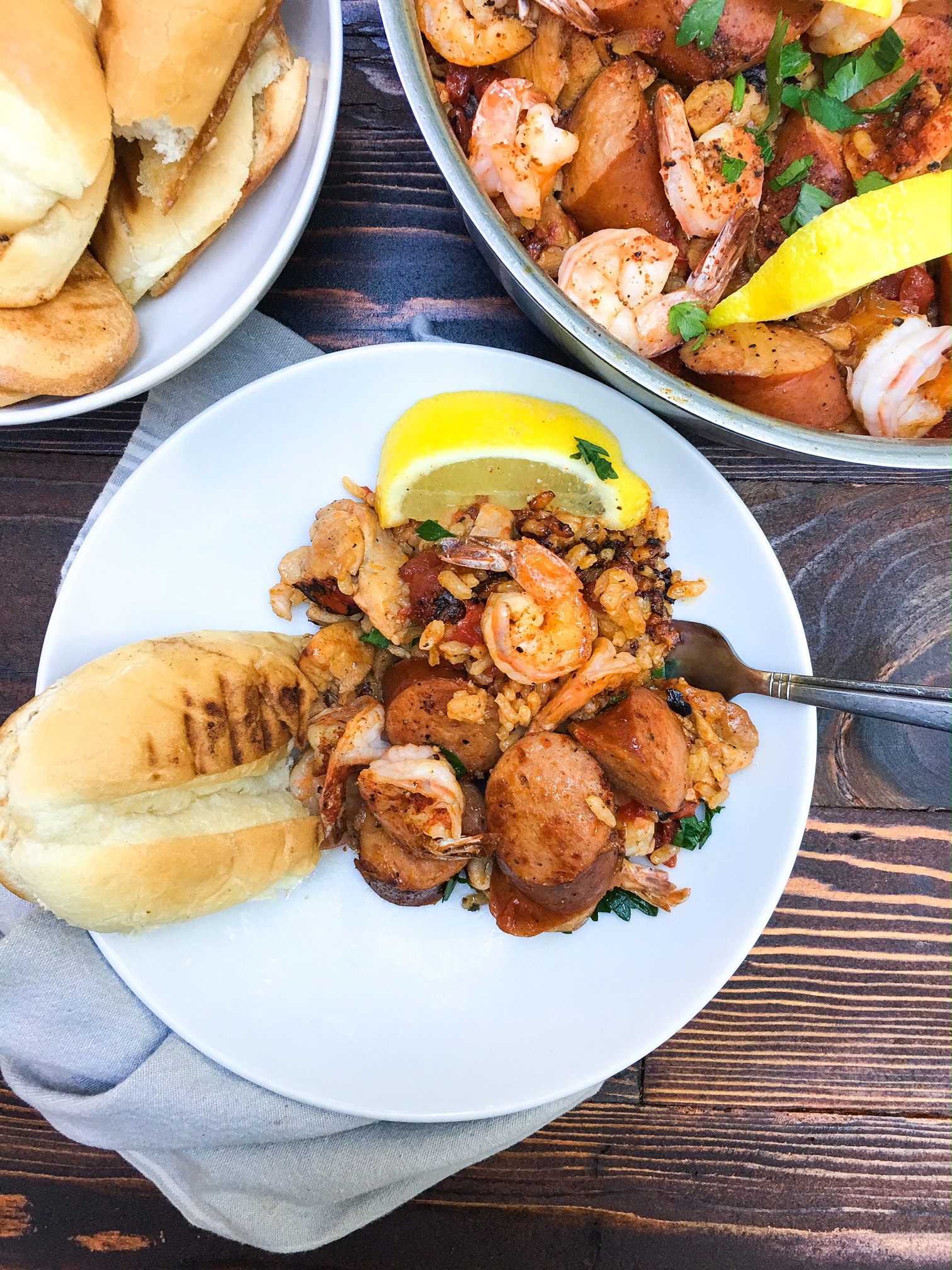 Affordable Spicy Paella
Author:
Prep time:
Cook time:
Total time:
An easy way to impress with bold colors and flavors in this affordable paella.
Ingredients
1 pound of chopped boneless skinless chicken thighs
2 tbsp of olive oil
2 tbsp of smoked paprika
2 tbsp of garlic powder
1 tsp of chili powder
1 tsp of red pepper
salt and pepper
1 cup of chopped onions
1 cup of stewed fire roasted tomatoes
2 tbsp of chopped garlic
3 cups of chicken broth
fully cooked sliced andouille sausage
1 pound of shrimp shelled with tails on
1 1/2 cups of arborio rice
1/2 cup chopped parsley
lemon wedges
Tabasco
Instructions
Heat a large paella pan or saute pan over medium heat.
Add the olive oil.
Add chopped onion and sausage.
Fry until onions begin to be slightly translucent and the edges of the sausage starts to brown.
Remove the sausage and set to the side.
Add in the chicken and cook until golden brown.
Add garlic and rice.
Season with salt and pepper, smoked paprika, garlic powder, red pepper and chili powder.
Add in the stewed tomatoes and stir until all the rice is covered.
Pour the broth over the top and stir into the rice.
Bring to a boil.
Lower to medium low heat.
Add the sausage back in then cover.
Cook for about 10 minutes.
If your broth evaporates before the rice is done just add a little more on top.
The important part is to make sure you do not stir the rice at all.
When the rice is almost done (about 15 minutes) add the shrimp on top.
Salt and pepper then cover.
When all the liquid has absorbed and you start to hear a little crackling the rice is done.
If you are unsure then just test the rice to make sure it has finished.
Sprinkle with parsley and squeeze a little lemon over the top.
I finish mine with Tabasco!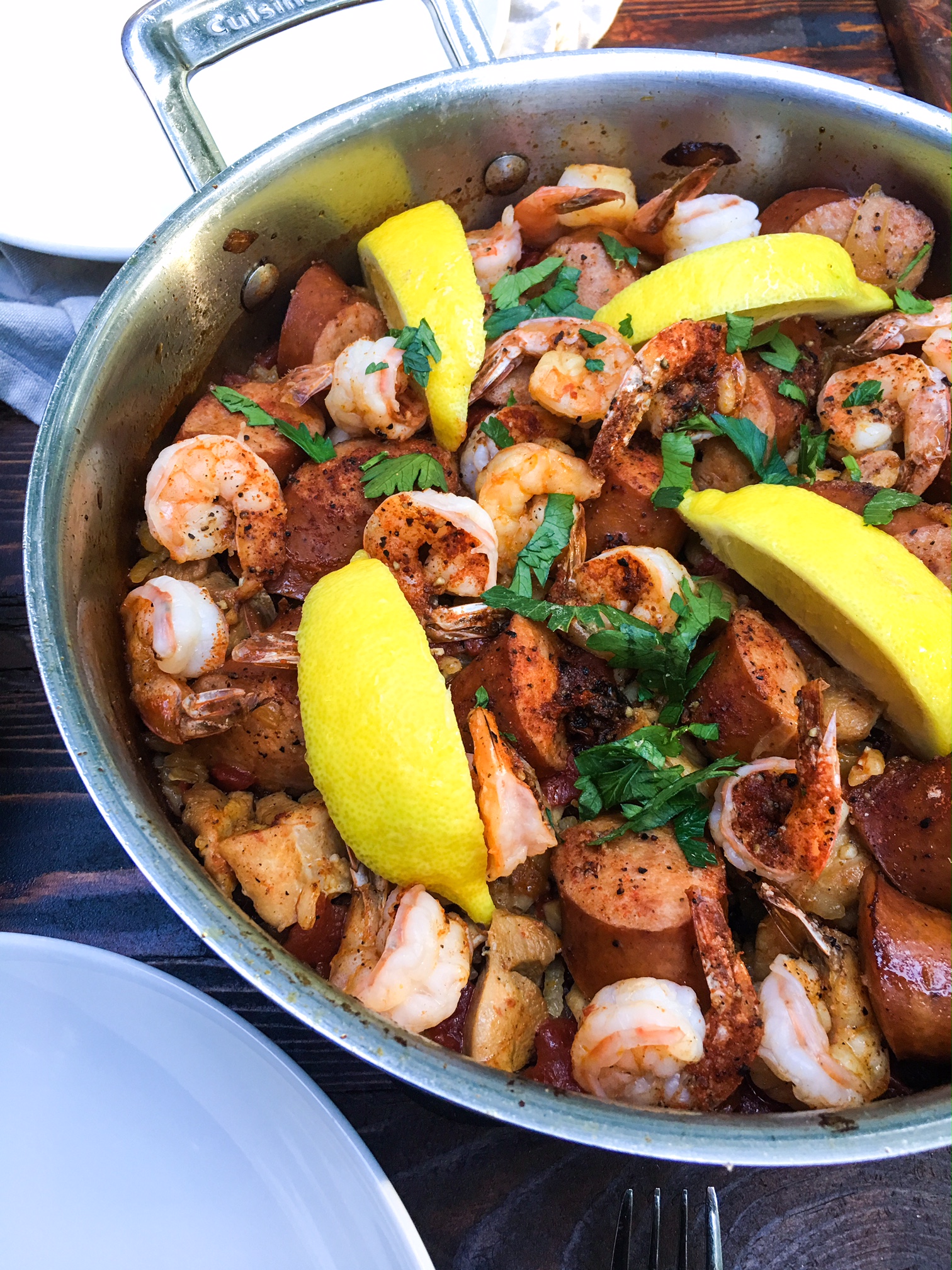 I know this is going to be one of my go to recipes this summer. Even Patrick's kids ate their entire bowls! I don't think this dish is too spicy. You can always omit the red pepper. I love the heat so I added lots of hot sauce to my bowl 🙂
Let me know if you try this recipe! I know you will love it!